Sometimes God will want you to go into the battle, and then He will fight the battle through you to defeat your enemy. However, there will be other times where you will have to do absolutely nothing. God will run protection for you so that no attacks will ever come your way in the first place. God will act as a shield and fortress for you.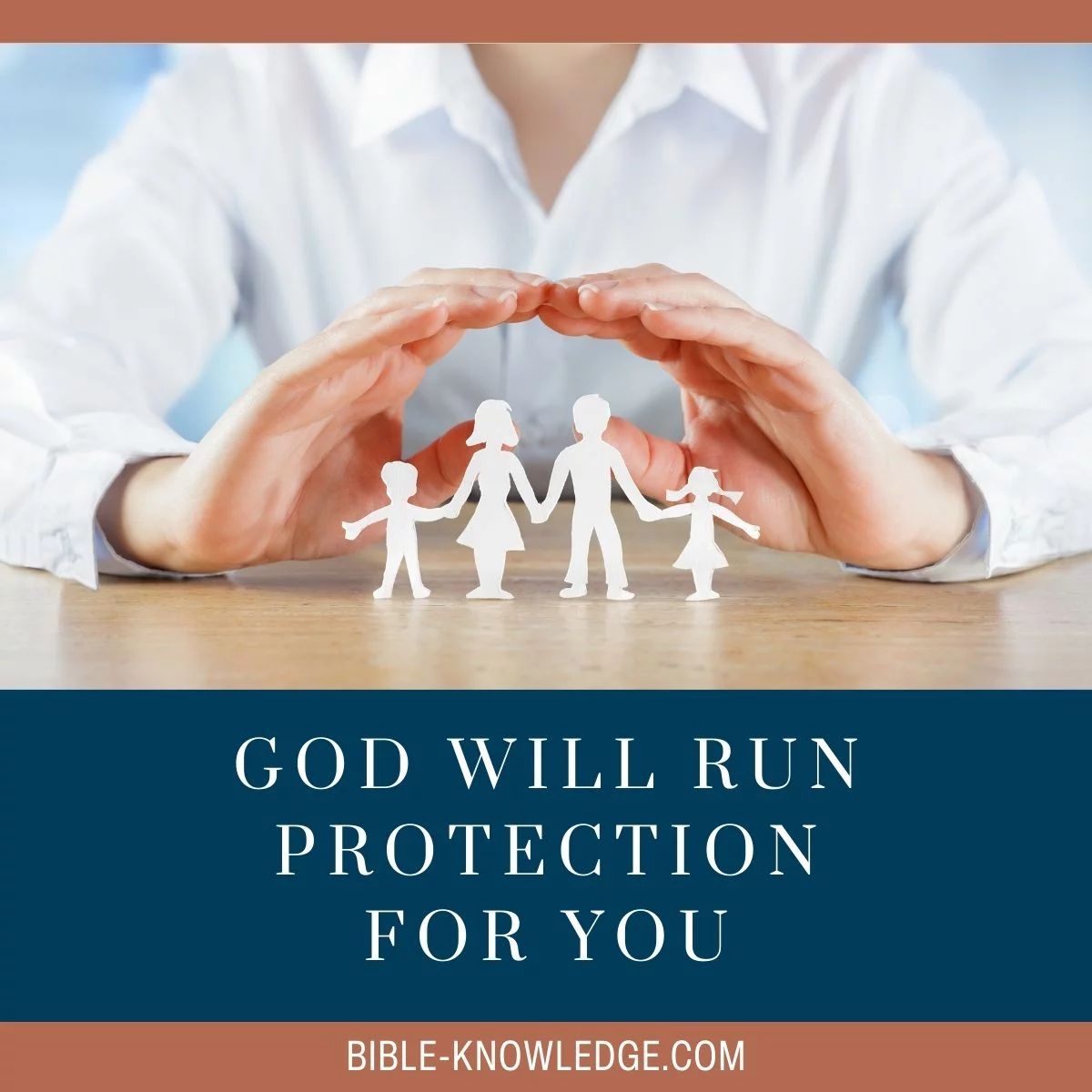 As you will see in the following Scripture verses, God will be:
Your Hedge
Your Refuge
Your Fortress
Your Deliverer
Your Defense
Your Front and Rear Guard
Your Stronghold
Your Strength
Your Rock
Your Savior
Your Light
These verses in particular are extremely powerful, and I mean extremely powerful! These are the types of verses you will need to ground on in your walk with the Lord. These are the types of verses that can keep a lot of unnecessary attacks from ever coming your way in the first place. Quote these verses back to God the Father in your prayer life with Him. Tell Him that you will stand on the promises of these verses with full faith and belief.
If and when any storm cloud gets ready to come your way – pull these verses out, and go into major prayer with the Lord telling Him that you are now going to stand on the wording of these verses, and that you will have full faith and belief that He will run protection for you against whatever enemy may be getting ready to come your way.
Give yourself pep talks if need be, telling yourself that God is going to protect you – no matter how hopeless the situation may appear to you in the natural. Load your mind and spirit up with the wording of these powerful verses and set your face like flint against your storm cloud – having full faith and belief that God will protect you and deliver you from whatever storm cloud is getting ready to come your way.
Again, it would be my very strong recommendation that you either write or type all of these verses out on index cards so you can have all of them right at your fingertips should you ever need any of them for an emergency situation. These verses have the full power and anointing of God Almighty Himself on them.
"Have You not made a hedge around him, around his household, and around all that he has on every side?" (Job 1:10)
"The Lord is my rock, my fortress and my deliverer; the God of my strength, in Him I will trust, my shield and the horn of my salvation, my stronghold and my refuge, my Savior, You save me from violence." (2 Samuel 22:2)
"Truly my soul silently waits for God; from Him comes my salvation. He only is my rock and my salvation; He is my defense; I shall not be greatly moved." (Psalm 62:1)
"But the Lord is faithful, who will establish you and guard you from the evil one." (2 Thessalonians 3:3)
"Many are the afflictions of the righteous, but the Lord delivers him out of them all. He guards all of his bones; not one of them is broken." (Psalm 34:19)
"And the Lord will deliver me from every evil work and preserve me for His heavenly kingdom." (2 Timothy 4:18)
"The Lord is my rock and my fortress and my deliverer; my God, my strength, in whom I will trust; my shield and the horn of my salvation, my stronghold. I will call upon the Lord, who is worthy to be praised; so shall I be saved from my enemies." (Psalm 18:2)
"But the salvation of the righteous is from the Lord; He is their strength in time of trouble. And the Lord shall help them and deliver them; He shall deliver them from the wicked, and save them, because they trust in Him." (Psalm 37:39)
"I will lift up my eyes to the hills – from whence comes my help? My help comes from the Lord, who made heaven and earth. He will not allow your foot to be moved; He who keeps you will not slumber. Behold, He who keeps Israel shall neither slumber nor sleep. The Lord is your keeper; the Lord is your shade at your right hand. The sun shall not strike you by day, nor the moon by night. The Lord shall preserve you from all evil; He shall preserve your soul. The Lord shall preserve your going out and your coming in from this time forth, and even forevermore." (Psalm 121:1)
"… Deliver me speedily; be my rock of refuge, a fortress of defense to save me. For You are my rock and my fortress; therefore, for Your name's sake, lead me and guide me. Pull me out of the net which they have secretly laid for me, for You are my strength. Into Your hand I commit my spirit; You have redeemed me, O Lord God of truth." (Psalm 31:2)
"Oh, how great is Your goodness, which You have laid up for those who fear You, which You have prepared for those who trust in You in the presence of the sons of men! You shall hide them in the secret place of Your presence from the plots of man; You shall keep them secretly in a pavilion from the strife of tongues." (Psalm 31:19)
"The Lord is my light and my salvation; whom shall I fear? The Lord is the strength of my life; of whom shall I be afraid? When the wicked came against me to eat up my flesh, my enemies and foes, they stumbled and fell. Though an army should encamp against me, my heart shall not fear; though war should rise against me, in this I will be confident." (Psalm 27:1)
"The Lord is on my side; I will not fear. What can man do to me? The Lord is for me among those who help me; therefore I shall see my desire on those who hate me. It is better to trust in the Lord than to put confidence in man. It is better to trust in the Lord than to put confidence in princes. All nations surrounded me, but in the name of the Lord I will destroy them." (Psalm 118:6)
"If God is for us, who can be against us?" (Romans 8:31)
"God is our refuge and strength, a very present help in trouble. Therefore we will not fear, though the earth be removed, and though the mountains be carried into the midst of the sea … God is in the midst of her, she shall not be moved; God shall help her, just at the break of dawn." (Psalm 46:1,5)
"Whenever I am afraid, I will trust in You. In God (I will praise His word), in God I have put my trust; I will not fear. What can flesh do to me? … In God I have put my trust; I will not be afraid. What can man do to me?" (Psalm 56: 3,11)
"When they went from one nation to another, from one kingdom to another people, He permitted no one to do them wrong; Yes, He reproved kings for their sakes, saying "Do not touch my anointed ones, and do My prophets no harm." (Psalm 105:13)
"Give us help from trouble, for vain is the help of man. Through God we will do valiantly, for it is He who shall tread down our enemies." (Psalm 60:11)
"For the Lord God will help me; therefore I will not be disgraced; therefore I have set my face like a flint, and I know that I will not be ashamed. He is near who justifies me; who will contend with me? Let us stand together. Who is my adversary? Let him come near me. Surely the Lord God will help me; who is he who will condemn me? Indeed they will all grow old like a garment; the moth will eat them up." (Isaiah 50:7)
"Those who trust in the Lord are like Mount Zion, which cannot be moved, but abides forever. As the mountains surround Jerusalem, so the Lord surrounds His people from this time forth and forever." (Psalm 125:1)
"Oh, bless our God, you peoples! And make the voice of His praise to be heard, who keeps your soul among the living, and does not allow our feet to be moved." (Psalm 66:8)
"Even to your old age, I am He, and even to gray hairs I will carry you! I have made, and I will bear; even I will carry, and will deliver you." (Isaiah 46:4)
"He who dwells in the secret place of the Most High shall abide under the shadow of the Almighty. I will say of the Lord, "He is my refuge and my fortress; my God, in Him I will trust. Surely He shall deliver you from the snare of the fowler and from the perilous pestilence.He shall cover you with His feather, and under His wings you shall take refugee; His truth shall be your shield and buckler. You shall not be afraid of the terror by night, nor of the arrow that flies by day, nor of the pestilence that walks in darkness, nor of the destruction that lays waste at noonday.A thousand may fall at your side, and ten thousand at your right hand; but it shall not come near you. Only with your eyes shall you look, and see the reward of the wicked. Because you have made the Lord, who is my refuge, even the Most High, your habitation, no evil shall befall you, nor shall any plague come near your dwelling; for He shall give His angels charge over you, to keep you in all your ways.They shall bear you up in their hands, lest you dash your foot against a stone. You shall tread upon the lion and the cobra, the young lion and the serpent you shall trample. Because he has set his love upon Me, therefore I will deliver him; I will set him on high, because he has known My name. He shall call upon Me, and I will answer him; I will be with him in trouble; I will deliver him and honor him. With long life I will satisfy him, and show him My salvation." (Psalm 91:1-16)
If you will read each one of these verses one right after the other, you will really feel the power on these verses when you string them all of them together. All of these verses show us, without any shadow of a doubt, how protective God can be with His own children. However, as the last verse points out, this kind of divine protection will only be given to those who have established a true personal relationship with the Lord.
This is part 6 of our series on the Battle Verses of the Bible. Here are the other sections.