Sometimes God will simply run a protective shield around you where nothing will be able to get through to attack you. Other times something will start to slip through to come directly against you, and then God will move ahead of you to take it out. This is where God will literally take your enemy head on and do battle with it.
Sometimes God will fight the actual battle through you, other times He will simply tell you to hold your position and do absolutely nothing, and then He will move Himself to completely take out the attack coming against you. This is where God shows you how powerful and how awesome He really is when He moves into battle to personally protect you.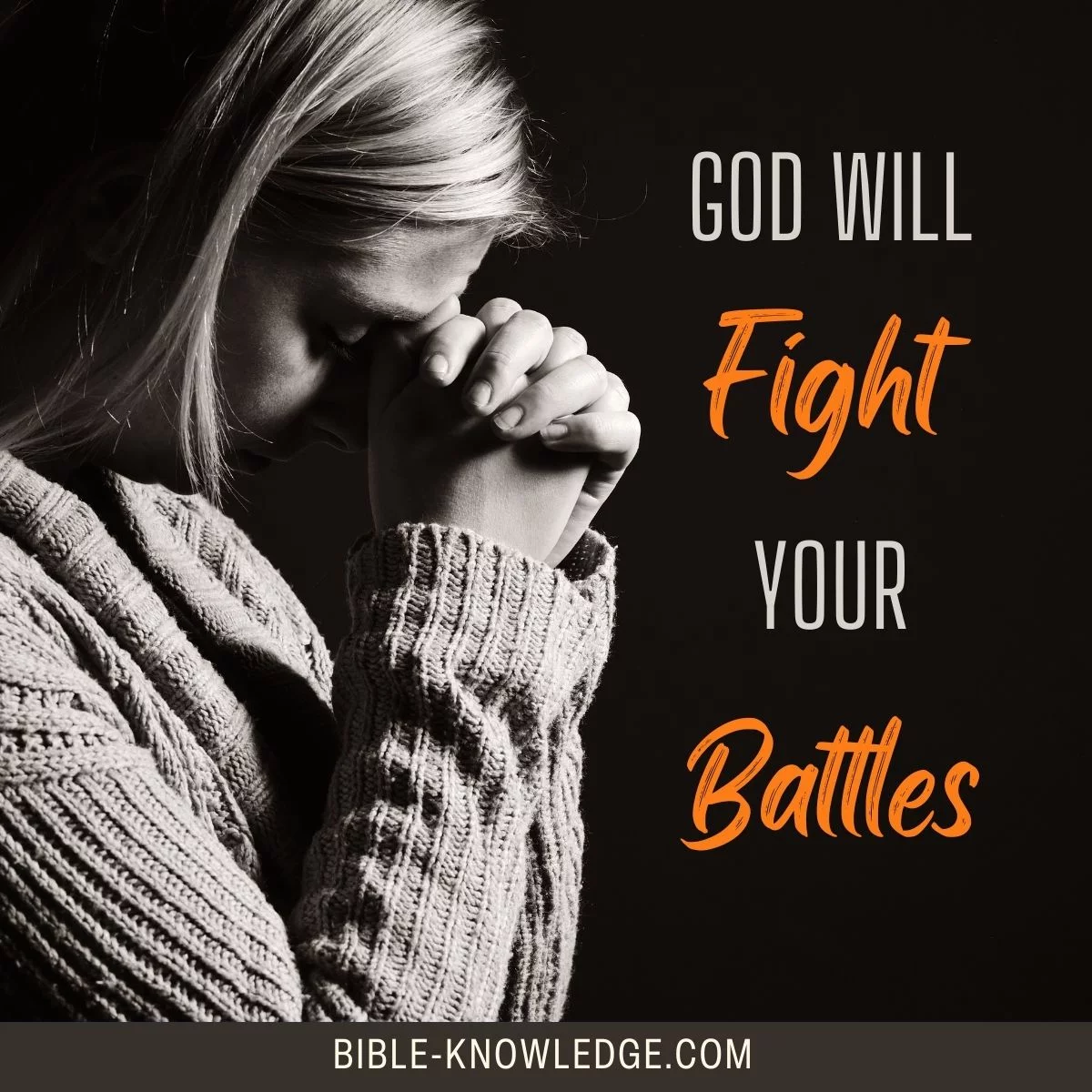 Again, these next set of verses are extremely powerful as all of the other ones listed above. Notice the very intense language God is using when these verses describe Him moving into actual battle for you.
The first two verses are major, whopper, power verses. These first two verses are specifically telling us that God can be a Man of War if He needs to be, and that He can actually be stirred up to go into battle for you if He has to.
"The Lord is a man of war; the Lord is His name … Your Right Hand, O Lord, has become glorious in power; Your right hand, O Lord, has dashed the enemy in pieces. And in the greatness of Your excellence you have overthrown those who rose against You; You sent forth Your wrath which consumed them like stubble." (Exodus 15:3,6)
"The Lord shall go forth like a mighty man; He shall stir up His zeal like a man of war. He shall cry out, yes, shout aloud; He shall prevail against His enemies." (Isaiah 42:13)
"I will go before you and make the crooked paths straight; I will break in pieces the gates of bronze and cut the bars of iron." (Isaiah 45:2)
"For you shall not go out with haste, nor go by flight; for the Lord will go before you, and the God of Israel will be your rear guard." (Isaiah 52:12)
"Therefore understand today the Lord your God is He who goes before you as a consuming fire. He will destroy them and bring them down before you; so you shall drive them out and destroy them quickly, as the Lord has said to you." (Deuteronomy 9:3)
"The Lord will fight for you, and you shall hold your peace." (Exodus 14:14)
"Be strong and courageous; do not be afraid nor dismayed before the king of Assyria, nor before all the multitude that is with him; for there are more with us than with him. With him is an arm of flesh; but with us is the Lord our God, to help us and to fight our battles." (2 Chronicles 32:7)
"… For I will contend with him who contends with you." (Isaiah 49:25)
"… since it is a righteous thing with God to repay with tribulation those who trouble you …" (2 Thessalonians 1:6)
"The eternal God is your refuge, and underneath are the everlasting arms; He will thrust out the enemy from before you, and will say, 'Destroy!' " (Deuteronomy 33:27)
Do not say, "I will recompense evil;" Wait for the Lord, and He will save you." (Proverbs 20:22)
"I will bless those who bless you, and I will curse him who curses you …" (Genesis 12:3)
"Many a time they have afflicted me from my youth; yet they have not prevailed against me … The Lord is righteous; He has cut in pieces the cords of the wicked." (Psalm 129:2)
"It is God who avenges me, and subdues the peoples under me; He delivers me from my enemies. You also lift me up above those who rise against me; You have delivered me from the violent man." (Psalm 18:47)
"Plead my cause, O Lord, with those who strive with me; fight against those who fight against me. Take hold of shield and buckler, and stand up for my help. Also draw out the spear, and stop those who pursue me. Say to my soul, "I am your salvation." (Psalm 35:1)
"When my enemies turn back, they shall fall and perish at your presence. For You have maintained my right and my cause; You sat on the throne judging in righteousness." (Psalm 9:3)
"Do not be afraid of their faces, for I am with you to deliver you," says the Lord. (Jeremiah 1:8)
"God is a just judge, and God is angry with the wicked every day. If He does not turn back, He will sharpen His sword; He bends His bow and makes it ready. He also prepares for Himself instruments of death; He makes His arrows into fiery shafts." (Psalm 7:11)
"He will guard the feet of His saints, but the wicked shall be silent in darkness. For by strength no man shall prevail. The adversaries of the Lord shall be broken in pieces; from heaven He will thunder against them. The Lord will judge the ends of the earth. He will give strength to His king, and exalt the horn of His anointed. (1 Samuel 2:9)
"… For we have no power against this great multitude that is coming against us; nor do we know what to do, but our eyes are upon You … Then the Spirit of the Lord came upon Jahaziel … thus says the Lord to you: 'Do not be afraid nor dismayed because of this great multitude, for the battle is not yours, but God's … You will not need to fight in this battle. Position yourselves, stand still and see the salvation of the Lord, who is with you, O Judah and Jerusalem!" Do not fear or be dismayed; tomorrow go out against them, for the Lord is with you." (2 Chronicles 20:12-17)
"Behold, all those who were incensed against you shall be ashamed and disgraced; they shall be as nothing, and those who strive with you shall perish. You shall seek them and not find them – those who contend with you. Those who war against you shall be as nothing, as a nonexistent thing. For I, the Lord your God, will hold your right hand, saying to you, 'Fear not, I will help you.' " (Isaiah 41:11)
"When the enemy comes in like a flood, the Spirit of the Lord will lift up a standard against him." (Isaiah 59:19)
"Now I know that the Lord saves His anointed; He will answer him from His holy heaven with the saving strength of His right hand." (Psalm 20:6)
"Though I walk in the midst of trouble, You will revive me; You will stretch out Your hand against the wrath of my enemies, and You right hand will save me. The Lord will perfect that which concerns me …" (Psalm 138:7)
"When you pass through the waters, I will be with you; and through the rivers, they shall not overflow you. When you walk through the fire, you shall not be burned, nor shall the flame scorch you." (Isaiah 43:2)
"For they did not gain possession of the land by their own sword, nor did their arm save them; but it was Your right hand, Your arm, and the light of Your countenance, because You favored them." (Psalm 44:3)
"You marched through the land in indignation; You trampled the nations in anger. You went forth for the salvation of Your people, for salvation with Your anointed. You struck the head from the house of the wicked." (Habakkuk 3:12)
"The righteous cry out, and the Lord hears, and delivers them out of all their troubles." (Psalm 34:17)
"And I commanded Joshua at that time, saying, 'Your eyes have seen all that the Lord Your God has done to these two kings; so will the Lord do to all the kingdoms through which you pass. You must not fear them, for the Lord your God Himself fights for you.' " (Deuteronomy 3:21)
Really meditate and chew on these verses so they can get down deep into your mind and spirit. Believe what they are telling you. Our God is a mighty, powerful and awesome God – especially when you see Him go into major battle to protect one of His own.
This is part 7 of our series on the Battle Verses of the Bible. Here are the other sections.