I believe that our God is a God of perfect order. I believe there are reasons for everything. For those who are seekers with the Lord, I believe many of the times God will give you answers as to why things are the way they are and why certain things happen the way they do.
Though we are all stuck with having to deal with the reality of demonic spirits in this life as a result of the curse Adam and Eve brought upon this earth, there is still a divine order in all of this and God is still running the entire show.
What I have personally found out in the area of spiritual warfare in having to deal direct with demonic spirits is that there are rules to the game, and there are limits as to how far they can go and how much they can get away with. For all Christians, there is complete deliverance from demons, no matter how bad and how hopeless the situation may look to you in the natural.
What we are trying to do with the spiritual warfare section of our site is to break these articles down accordingly so that you can pick and choose which ones will be best suited for the battle situation you may be forced to face.
In the area of having to deal direct with demons, I once again want to summarize your possible options per the articles we have done to date.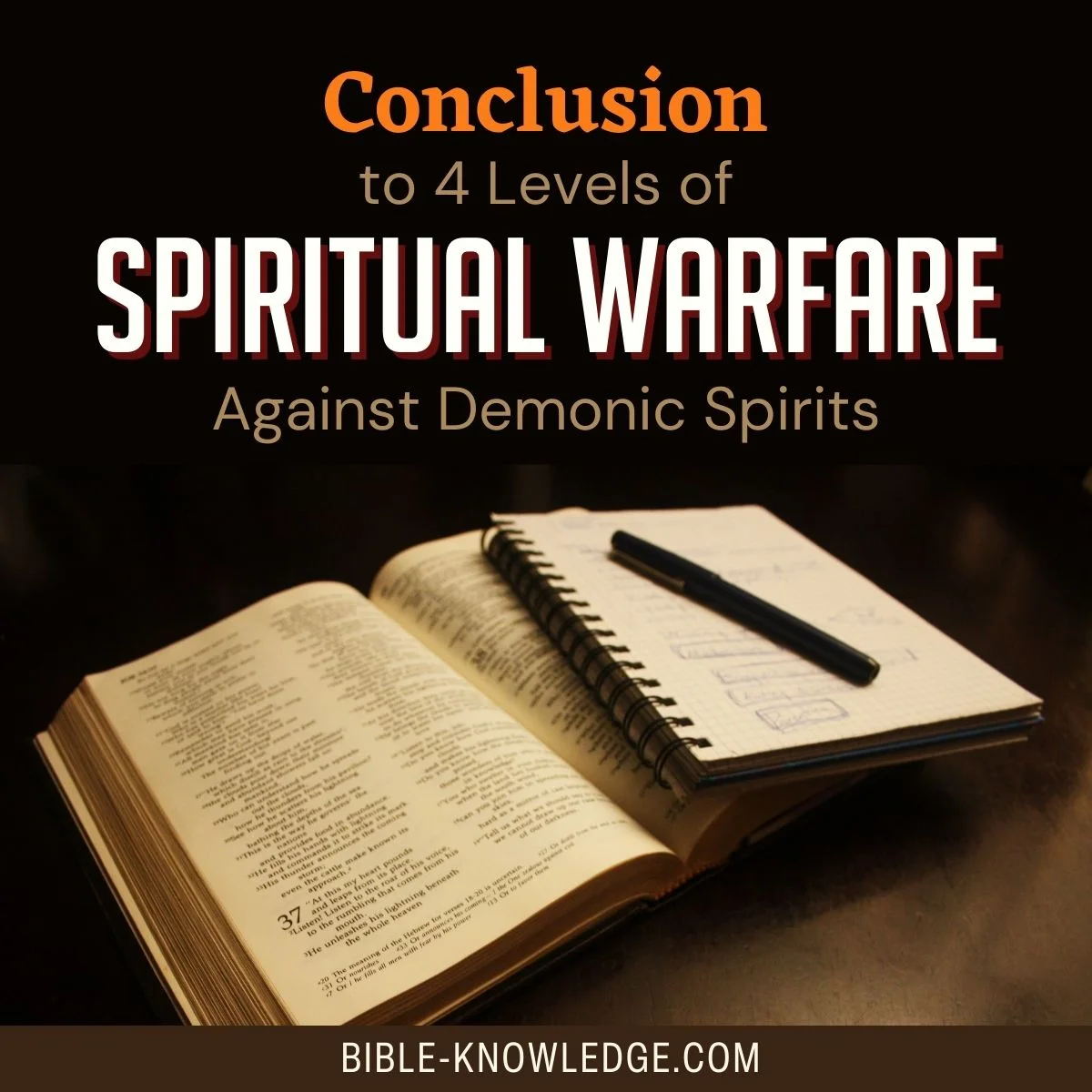 1. If demons are attempting to attack, harass, or torment you from an outside position, but have no real legal right to be doing so, it would be our recommendation that you read our article titled, "Battle Command Against Demonic Spirits." A good, simple, basic battle command against these demons should do the trick and you should be able to drive them off of you very easily and very quickly.
2. If you have committed any type of door-opening sin and transgression against the Lord giving demons the full legal right to be able to come directly after you, we recommend that you read our article titled, "Battle Prayer to Break Legal Rights of Demons."
Before you can verbally command the demons to leave you in the name of Jesus, you will first have to break their legal rights – and this article will give you a good, sample, battle prayer on how to properly do this with God the Father.
3. If you have had someone violate, abuse, or harm you in any type of extreme way, and have drawn demons into your life as a result of what that person or persons may have done to you, it would be our recommendation that you first read our article titled, "How to Handle Negative Feelings When Wronged by Someone Else."
After you read this article and have made a commitment to the Lord to fully forgive all of your trespassers, then you can form out your own personal battle command as mentioned in the first two articles above, and then cast the demons off you for good.
4. If you have demons that have been nipping, attacking, tormenting or harassing you as a result of being raised up in a dysfunctional family where either one or both of your parents have committed some severe transgressions against the Lord, it would be our recommendation that you read our article titled, "Battle Prayer to Break a Generational Curse Line."
This article will give you a step-by-step process on how to fully break the generational curse line that may have formed out from one or both of your dysfunctional parents – and then how to verbally command the demons to leave you in the name of Jesus Christ once you have properly broken that curse line with God the Father.
As I have said before, you do not want to get so paranoid and spooked that you are seeing demons around every possible corner.
But you also do not want to take the other extreme position and turn a blind eye and keep your head in the sand ignoring the reality of demons and the different ways in which they will operate.
Many of God's people are getting torpedoed and taken out of this life way too early as a result of not having the appropriate knowledge on spiritual warfare and how to do battle with their enemies – whether those enemies be demons or other evil people in this life.
The Bible has made it very clear. God's Word has told us that we have all been called to be good soldiers of Jesus Christ. Notice that God is using the word "good soldiers." When God is using the word "good soldiers," I believe He is meaning exactly what He is trying to tell us. Good soldiers are warriors and they know how to directly engage with their enemies if they have too. They are strong, bold, and fearless.
God tells us in His Word that He wants us to be as bold as lions and that we are to directly engage and cast out demons when we have too. He tells us that if we faint in the day of any kind of adversity, that our strength will be considered small in His eyes.
Per all of the Scripture verses I listed at the top of this article, Jesus Himself had specifically told the apostles to cast out demons every single time He commissioned them to go out and walk with His anointing. We are to save, heal, teach, disciple, and cast out demons when we do run across these types of extreme situations.
I believe God is looking to raise up more well-rounded, anointed soldiers in these last days to battle some of the more increasing evil that we are starting to see more of. As we approach what I believe will be a coming Rapture, and then the coming of the 7 year Great Tribulation where this entire world will literally be ruled by a real, live, living Antichrist, I believe God will be pulling out all of the stops to try and get as many people saved and on that rapture train as He possibly can.
In order to do this, I believe God will be raising up an incredible army of anointed believers who will walk and fly with His supernatural power in a way that the world has never seen before and will never see again. Many of these anointed, chosen ones are being worked, trained, molded, and shaped right now into the eagles that God is calling them to become in Him.
For those of you who would like to read a direct prophecy on this coming army and what Jesus will be doing with this army, go to our article titled, "Prophecy from Jesus to Mary Baxter on Joel's Army to Come" in the "Prophecies" section of our site. In this article is a direct word that Jesus gave to this woman on this coming army that He will be personally raising up, and some of the things that will be happening with this army.
Jesus says that this army will be the army of Joel as spoken by the prophet Joel in the Old Testament. In this article, I give you the full verse from the Book of Joel and the description that He gives of this army. He says this army will be the greatest army that God has ever raised up, that there never has been an army as mighty and powerful as this army is going to be, and that there will never be another one like it ever again.
I personally believe that this army could be coming out of our generation, and that our baby-boom generation may end up being the generation that will see and experience the Rapture.
Recommended Reading
For those of you who would like more detailed information in this area of spiritual warfare, here are 7 very good books on this subject that I would highly recommend, with all of them being written by very creditable, anointed men and women of God who are very experienced in this level of spiritual warfare and have learned much in the actual battlefields with demonic spirits.
All of these people are real pioneers in this area. The Bible tells us that we are to cast out demons, but it does not tell us exactly how to do it. Many of these people have had to learn how to do this all on their own as the Holy Spirit was guiding and teaching them along the way. As a result of all of their learning experiences, there is now an incredible amount of knowledge and revelation on this subject for those who want to learn more about it.
If I had to rate which one of these books would be considered the best at this time, I would definitely have to say the very first book I will list below. The title of this book is"Defeating Dark Angels" by Charles Kraft. This man gives the best, easiest, most logical, rational, and thorough analysis of this topic that I have seen to date. You cannot go wrong with this man's teaching on this subject.
Two other books that are extremely good are "Healing Through Deliverance – Volumes 1 & 2" by Peter Horrobin.
Here are seven of the best books the Body of Christ has to date on this subject:
Defeating Dark Angels
By Charles H. Kraft / Gospel Light
Healing through Deliverance, vol. 1: The Foundation of Deliverance Ministry
By Peter Horrobin / Baker
Healing through Deliverance, vol. 2: The Practice of Deliverance Ministry
By Peter Horrobin / Baker
How to Cast Out Demons: A Guide to the Basics
By Doris M. Wagner / Gospel Light
Pigs in the Parlor
by Frank Hammond, Ida M. Hammond
In The Name Of Satan How The Forces Of Evil Work And What You Can Do To Defeat Them by Bob Larson
Larson's Book of Spiritual Warfare
By Bob Larson / Thomas Nelson /
If any more good books on this subject become available, I will add them to this list.
This was the last part on our 4-part series about "Spiritual Warfare Against Demonic Spirits". You can find links to other parts below. If you've already read all the parts, then you might want to learn "How to Break a Generational Curse Line".