There's a story I heard about a young woman who worked for a loan company. As a Christian and a lover of our Lord Jesus Christ, she would always look for and take advantage of any opportunities to share the gift of salvation with those who needed to hear it.
She had few friends, but was well loved by those who knew her, as she allowed God's love to flow through her and into everyone she came into contact with. And whether it was someone she knew, or a stranger she just met, she allowed the burden in her heart to serve and to share to anyone and everyone around her, specially those who were lost and hurting.
She would often pray daily for guidance and strength, and in time she felt the Lord speak to her. That there would be something that would happen in her life soon. But she could discern nothing specific about it, other than God's firm and definite reassurance saying, "I will be with you." So, while she was confused and didn't understand, she decided to tell the Lord, "I trust You, Lord."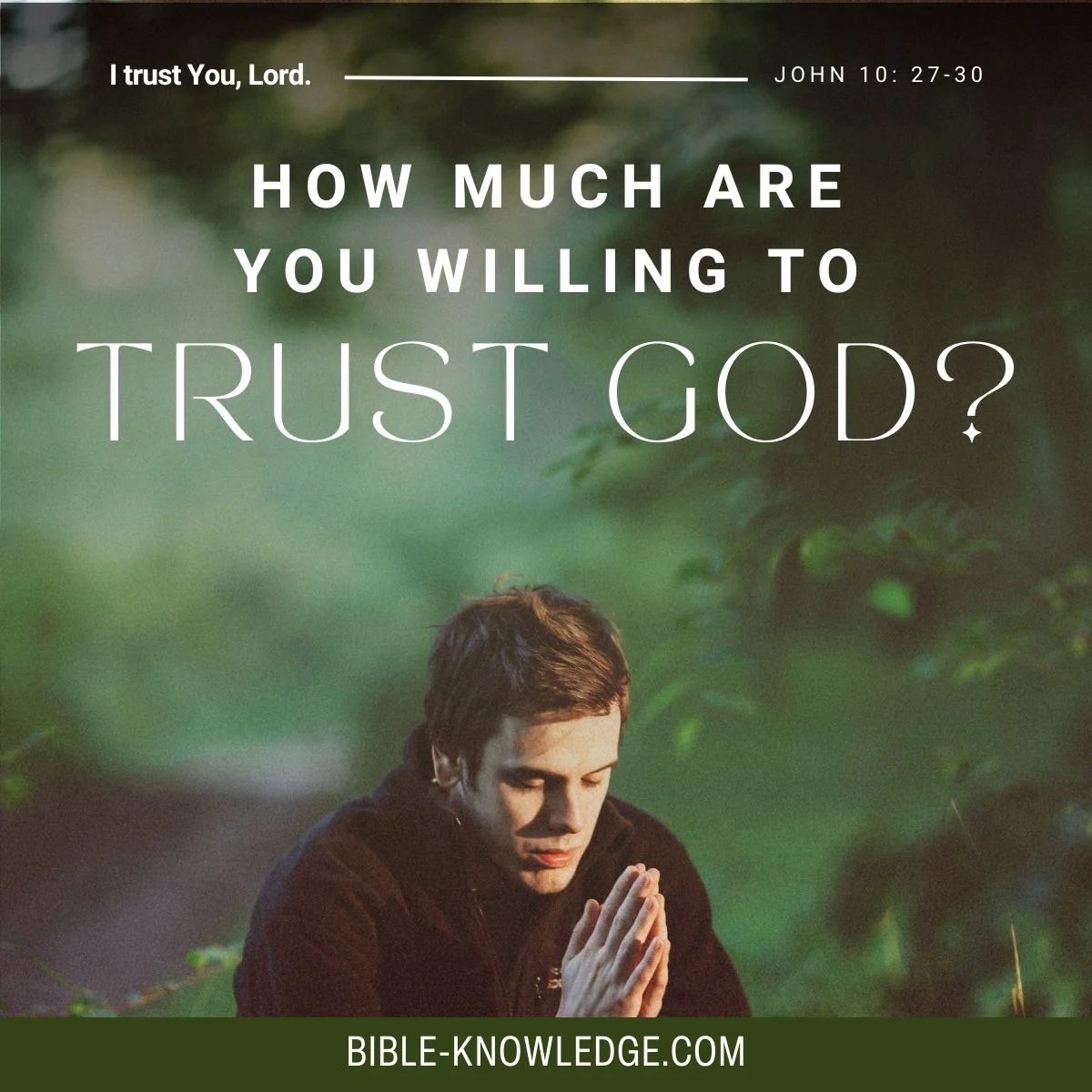 Now, there are those people that say that the Lord does not speak to us, that there is no Biblical basis for this, and specially not in our time. But in John 10: 27-30, He says:
"My sheep hear My voice, and I know them, and they follow Me. And I give eternal life to them, and they will never perish; and no one will snatch them out of My hand. My Father, who has given them to Me, is greater than all; and no one is able to snatch them out of the Father's hand. I and My Father are one."

(NKJV)
Even more, in the New International Version, the first verse is translated as, "My sheep listen to my voice," and that suggests that His voice is there to be listened to. But I digress.
Now, going back to the story: she continued to seek Wisdom from the Lord, and began to think that perhaps the Lord was speaking to her about her job. As a loan manager for a check-cashing company, she sometimes did not feel right about her job. Often her customers were people who were already having financial trouble, and that sometimes she did them more harm than good.
Confident that this was the message that God had given her, she began to look for a new job. But every job she applied for, she was turned down. Every door that she tried to walk through, the Lord closed, and she started to feel more and more frustrated. If she was causing more hardship, she reasoned, and the Lord did not want this for her, why wasn't He providing a way for her to find a new job?
One morning as she continued to work as a loan manager, she found herself staring down the barrel of a gun. A man had come in through the door, walked right up to her and placed a gun to her head, demanding that she give him all the cash in her drawer. As anybody in her position would, she gave him everything, all the while praying that this would not be the end of her life. But she placed her life in His hands, and the man left her without harming her or anyone else that had been there at the time of the robbery.
Surprised and a little in shock, she managed to push the panic button after the man had left. The police arrived to find her scared and shaken, and while she made her statement to them, she considered quitting her job right there and then. Quite understandable, after the experience that she just went through!
She spoke with her boss, and after a brief discussion with him, he allowed her some time off to recover from her ordeal. In her mind, this was easily the last straw that would lead her to leaving her job, but God had something different in mind for her.
At home and filled with fear, she relived the experience during her waking hours, and sometimes found herself having nightmares about the event as well. She cried out to God, first in thanks that she was spared and not harmed, but she also gave him all her frustrations and fears. As many others have cried out before, she asked Him, "God, why me?" But she found Him to be silent.
The weeks passed, and she continued to pray to the Lord, asking Him for the strength and wisdom to deal with the traumatic experience she had undergone. As much as she tried, she started to find that her fear started to be mixed with anger. Anger at the man who had threatened her with a gun, and even angry at God who allowed her to be in that situation.
At this time, she heard Him speak to her more clearly. "Remember, My Daughter, I told you that I will be with you. I was with you then, and I am with you now. All you can see is what this man did to you, what pain you have endured because of him. But as you are My Creation, he is My Creation as well, and as I love you with a perfect love, so do I love him. And as am grieved by your ordeal, so am I grieved for this man, because he is headed for destruction."
And while she was confused, and more than a little hurt and angry still, she asked for the Lord's forgiveness. "I do trust you Lord. I don't understand it all, but I do trust you." And she started to pray for the man who had held her at gunpoint. She felt the compassion of Christ fill her heart, and she began to see what fear and hopelessness must have been in the man's heart as well, that he would feel the need to do what he did.
Soon her anger turned to compassion, as Christ's love overwhelmed the fear and anger in her heart. She continued to pray for him, to pray that he would receive Christ. And she found that she was able to forgive him for what he had done. Led by the Holy Spirit, she prayed for the man's salvation and well-being, and as the days and weeks passed, as she focused less on self, the Lord worked on her heart as well.
She returned to work, and while she continued to look for a new job, the Lord comforted her that she would leave at His right time. And while she felt trapped at her job, she continued to trust Him, and submitted herself to Him, all the while doing her best to help those she could in her job.
At the same time she began to wonder what she would do if she ever saw that man again. Held at gunpoint, she had been unable to do anything but what he had asked. Fearful for her life, she could barely think about his, or even the lives of the other people around her. She wondered what she could have done differently. Could she have been able to share the love of God even then, while the man threatened her with a gun? She prayed that it would never happen again, though she also prayed that she would have the wisdom to do what she could if ever it did.
It's often said that the Lord works in mysterious ways, and I've also heard it said, often sarcastically, that God has a strange sense of humor. But I believe that what happened next was more about God giving the woman a chance at an opportunity she had missed before.
Just weeks after she had returned to work, as amazing as it sounds, the man returned to rob her place of work again! Like a bad dream, she saw him walk towards her with his gun threatening her and those around her. Again, he asked for all the money in her drawer, and again she could feel her heartbeat throbbing in her ears.
As before, she prayed for her safety, and the safety of the others around her, but this time she also prayed for the man who held the gun. As she did what he said, her eye fell upon one of the Biblical Tracts that she had near her desk. She would sometimes give these to her co-workers and even some of their clients, and some had even told her that those small leaflets had helped them greatly.
As she put the money in the bag the man had offered, she slipped a few of the Tracts in with them, and prayed that those would do what she couldn't at this time. She offered the man a frightened smile as she handed him her bag, and he seemed to pause, a little confused. But again, he left without harming anyone, and she breathed a sigh of relief. But this time, she hoped she had planted a seed that could reach out to the man, and touch him as God had touched others.
While she had been afraid for her life, she had felt another emotion while the man had held the gun to her. She felt God's overwhelming love, not only for her, but for the man with the gun. Even while she was afraid, she could not help but feel God's love for him flowing through her as well, and even as he left, she forgave him in her heart, and blessed him with the love of God.
Some weeks later, God eventually gave her the opportunity to find work where she felt that she could make a difference in other people's lives. And while she did not see that man again, she often wondered how he was, and if he had received Jesus as Lord and Savior. And even as she continued to pray for him, and for the others in her life, she continued to cling to the promise of God to her, and to all of us: "I will be with you."