I know this next topic is going to be a very sensitive one for many in the Body of Christ. Not only are there many unbelievers who are engaging in this sin and transgression against God, but there are many Christians themselves who are violating and breaking this one specific commandment from the Lord.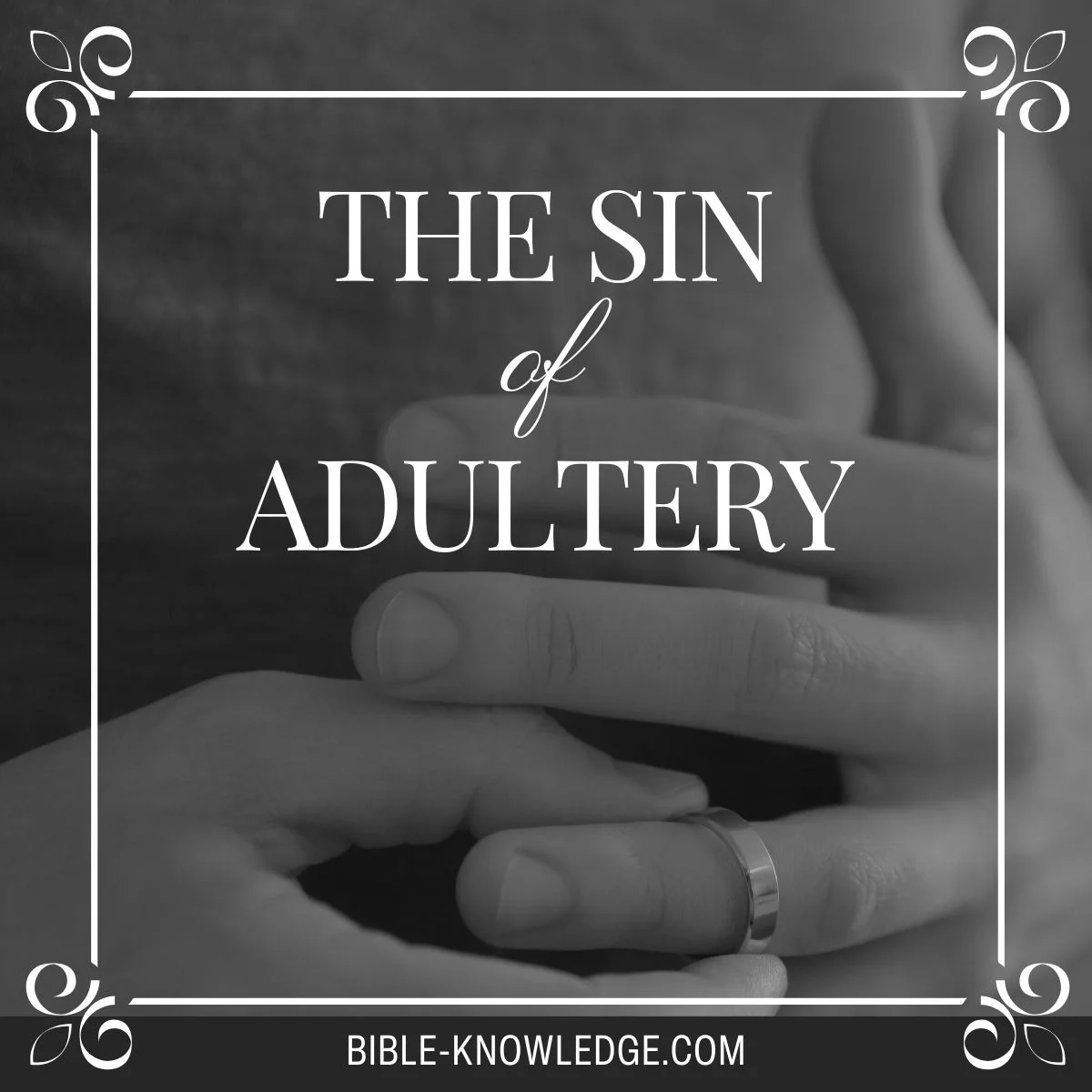 With the sexual imagery that is now invading our lives from just about every media outlet, many people are battling serious problems with lust. And instead of getting their sexual needs properly met in their marriages, many people are looking outside the boundary lines of their marriages for sexual fulfillment.
As a result, you have many Christians who are out cheating behind their spouse's back and are literally sinning and transgressing against God Almighty Himself.
I cannot even begin to count the number of Christians I have personally met throughout the course of my life who have regularly cheated on their spouses.
I have heard many of the men say that their lower half has no conscious, and if they find a pretty or willing woman, that there is no way they could ever say no or pass it up.
Others are not getting their sexual needs met or fulfilled within their marriages. Communication has shut down for different reasons, and as a result, their love life starts to get shut down right along with everything else.
As a result of not getting their sexual needs properly met, many of these men start to wander, and before they know it, they have fallen head first into a hot and torrid adulterous affair.
For those of you who really want to know what God the Father thinks about this particular sin, I will give you some very interesting verses from the Bible letting you know exactly what He thinks about this transgression and why it is so deadly in His eyes.
As with all of the rest of the commandments God has given to us through His Holy Word – these specific verses are being given to us for our own benefit and for our protection.
Many Christians I have met who are operating in this transgression on a regular and frequent basis have no real fear of the Lord or any respect for His specific commandments on this issue.
As you will see when I list out the specific verses on this topic, this is a very serious offense against the Lord, and many of His own will becoming in for some very severe judgments on this issue once they depart from this life and cross over into the Judgment Seat of Christ for their own personal judgment with the Lord for everything they have ever done or said in this life, whether it be good or whether it be bad.
Consider the following:
God has the sin of adultery listed as one of His special ten commandments – "Thou shall not commit adultery."
God says that the sin of adultery will be one of the main sins that will keep you out of heaven. I will give you two verses below that will show you that adulterers will not be entering into the kingdom of heaven. Does this edict include Christians?Can a Christian possibly lose their salvation over this one sin by the way these verses are worded if his transgressions in this area have been deemed to be severe enough by the Lord?
The Bible says that God hates divorce, but that He will allow one spouse to leave the other within a marriage union if one of the spouses has been unfaithful to the other.
Back in the Old Testament, the sin of adultery warranted receiving the death penalty by way of stoning if one got caught in it.
Back in the Old Testament when God's chosen people, the Jews, were abandoning Him and chasing after other gods – God the Father would call them "harlots and adulterers" because they would not stay true, loyal, and faithful to Him.When God calls you an "adulterer" straight to your face in your own personal relationship with Him, you are being called one of the worse things that He can possibly call you.
I personally believe that there is an "angle" on this particular sin that many Christians are not seeing or realizing. Not only are you hurting yourself, your marriage, your spouse, and your children with this deadly sin and transgression, but you are also seriously hurting and damaging your own personal relationship with the Lord Himself.
Here is the angle that many Christians who are regularly operating in this sin are not seeing:
If you cannot stay true, loyal, and faithful to your spouse, to your marriage, and to your children – then maybe God will wonder whether or not you could ever stay true, loyal, and faithful to Him for the rest of your eternal existence once you enter into heaven.
Satan and one third of the angels could not stay loyal and faithful to God for the long run, and look what happened to all of them – they all got cast out of heaven with no chance of ever being able to make it back in again.
The Jewish people back in the Old Testament could not stay true, loyal, and faithful to the Lord in all of His dealings with them, and again, look what happened to all of them as a nation and as a people near the end of the Old Testament.
God called them harlots and adulterers, pronounced judgment on them, and tells them that they will be dispersed to the four corners of the globe until the end of time where He would then bring them back to Israel and re-establish them as a nation.
I believe that marriage, and the vows and promises that go along with it, are taken very, very seriously by the Lord – and from there, He will personally watch you as to how you handle the sanctity of your marriage, how you treat your spouse and children, and if you will be tempted to stray and cheat behind your spouse's back.
Too many people end up taking their marriages for granted after a certain period of time.
I believe marriage, and the close personal relationships that should develop between husband and wife, and between parents and their children should only be second to their own personal relationships with the Lord. It should be God, family, and friends – and in that order!
Family – with a beautiful wife or husband, and with one or more beautiful children, are the greatest blessings and treasure that God can bestow upon you in this earthly life next to Him, His Son Jesus, and His Holy Spirit.
And yet as great as this blessing and treasure really is, there are so many people who are willing to discard it, sever it, and cheat on it once they hit a few minor speed bumps in the marriage.
To those of you who are married and are either thinking about committing adultery behind your spouse's back, or if you are already doing it – study the wording, the tone, and the straight forward messages that are coming out the verses I will list below. Study these verses very, very carefully.
Once you read these verses, you will have been properly warned by God Himself through His Word, and you will know, without any other possible interpretation, exactly what God the Father's opinion really is on this issue.
Bottom line – if you are having any problems in your marriage, commit your life and your marriage back into God the Father's hand, and ask Him to help heal, restore, and straighten out any thing that needs repairing.
Be guided by the Holy Spirit as to what steps you should be taking on your end to get the marriage back on solid ground with you, your spouse, and with God. Tackle your problems and issues head on, operating under God's knowledge, guidance, and wisdom.
Jumping into any kind of an adulterous affair will only make matters worse, and eventually could lead to the complete destruction and dissolution of your marriage if your spouse ever finds out about it.
The pain you will cause your spouse and children will be extreme, traumatic, and possibly fatal and final if the transgression has been deemed to be severe enough by your spouse.
If God has completely severed His personal connection to Satan and one third of the angels due to their infidelity and rebellion against Him, and if He will allow a full marriage union to be completely broken, severed, and dissolved if one of the spouses becomes guilty of committing adultery – do not tempt the fate of your married life for a few moments of fleshly and carnal pleasure.
The gamble and the risk is simply not worth it – either for you, your spouse, or your children.
Now part 2 on the Sin of Adultery will show you very interesting verses from Scripture as what God really thinks about this specific sin and transgression and my conclusion.