"…The Lord himself will give you the sign. Look! The virgin will conceive a child! She will give birth to a son and will call him Immanuel (which means 'God is with us')."

Isaiah 7:14 NLT
The presence of God is spoken about throughout the Bible, both in the Old and New Testaments. In the Old Testament, the most common Hebrew term for the word "presence" is panim, which may also be translated as "face", which implies a personal, close encounter with God.
Perhaps one of the most well-known and soul-touching verses that gives us a glimpse of how personal God's presence is meant to be is the one quoted about from Isaiah 7: "…She will give birth to a son and will call him Immanuel (which means 'God is with us')." The very name of God's son – Immanuel – means God is with us.
It's something we often think about, read about, and even sing about as we come closer to Christmas. Jesus. Immanuel. God with us. It's easy to simply let the words roll off our tongue without fully comprehending how powerful the promise of God's presence is in our lives. We often take it for granted and underestimate its power to transform our lives.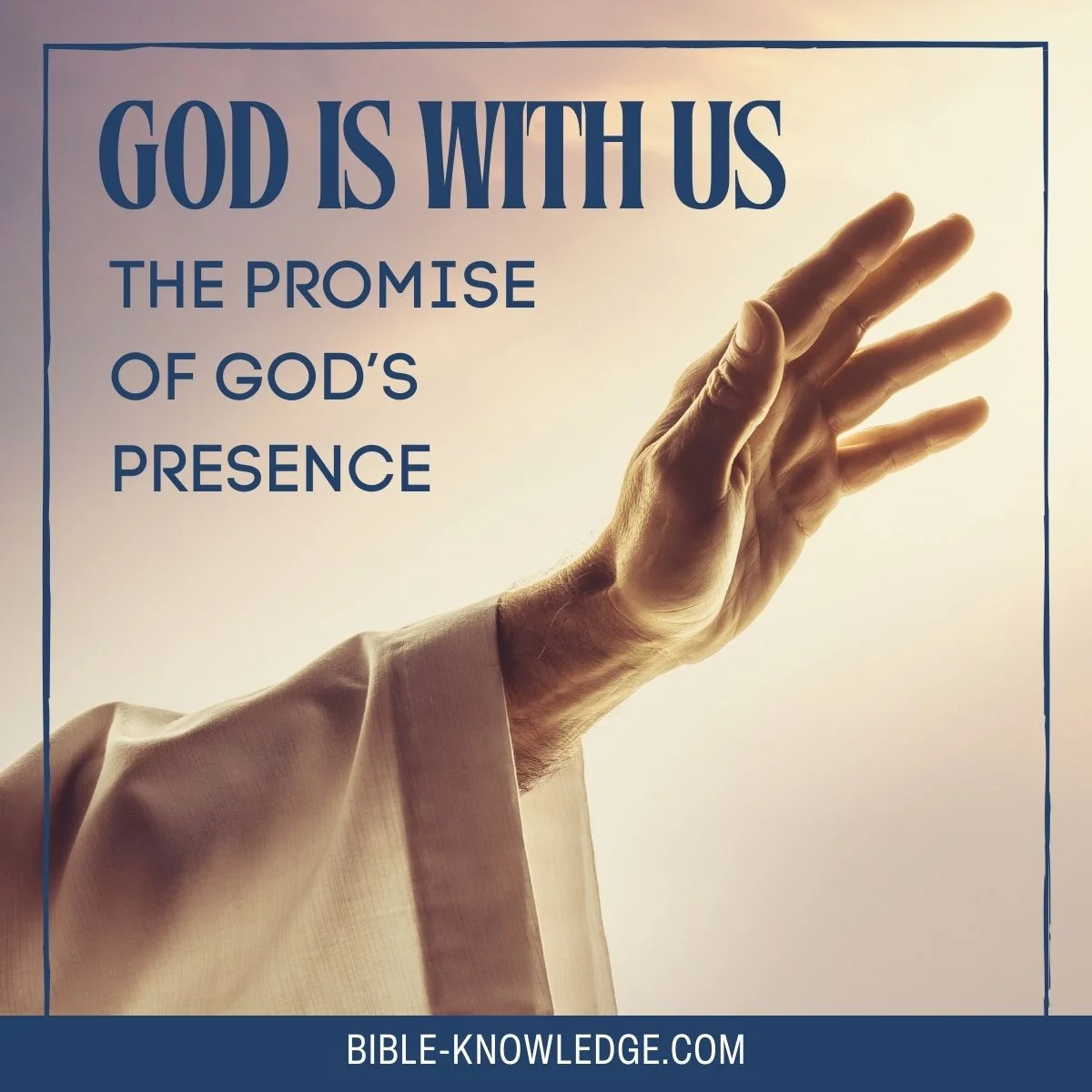 But just stop for a moment and think about that simple phrase. God is with us. Say it to yourself aloud. Doesn't it just resonate in your very soul? Jesus so longed for a relationship with us, that he came as a vulnerable baby, and ultimately, willingly took on the cross. Our God risked everything because he had to come back for us; he gave everything to be with us.
Throughout the Bible, God's presence carries a wide range of meanings. At times, people feared it, such as when Adam and Eve sinned. Others, like Jonah, tried to escape God's presence. God's presence offered comfort to many people throughout the scriptures, and we even see God's presence displayed at places of worship, such as in the tabernacle or with the Ark of the Covenant in the Old Testament.
Although we may not always feel God's presence in our lives, he is always there. And we can count on the promise of His presence, even when we can't feel it. After all, we don't live our Christian walk on feelings; we live by faith.
As we think about the coming of Jesus – Immanuel – this Christmas, let's dig deeper into God's presence. Let's take a closer look at His presence revealed throughout the Bible, discover facets of God's presence that can help us face our daily lives, learn ways to experience the presence of God, and delve into scriptures we can lean on when we need to be reminded that God is with us.
Essential Things to Know About God's Presence
To understand God's presence and how it relates to us, here are some essential truths we must know:
The Bible Highlights God's Manifest Presence in Addition to His Omnipresence
There's a big difference between the fact that God is everywhere (God's omnipresence) and saying that God is here (God's manifest presence). We often talk about God's inescapable presence and discuss the fact that God is everywhere. Psalm 139:7-12 (KJV) reminds us that we can never get away from God's presence or spirit:
"Whither shall I go from thy spirit? Or whither shall I flee from thy presence? If I ascend up into heaven, thou art there: if I make my bed in hell, behold, thou art there. If I take the wings of the morning, and dwell in the uttermost parts of the sea; Even there shall thy hand lead me, and thy right hand shall hold me. If I say, Surely the darkness shall cover me; even the night shall be light about me. Yea, the darkness hideth not from thee; but the night shineth as the day: the darkness and the light are both alike to thee."
However, Scripture also drives home the manifest presence of God, particularly when it comes to relationship and redemption. And while God's manifest presence and omnipresence work together and are both important concepts, the story of salvation hinges on God's manifest presence – God with us.
The Bible Begins and Ends with God's Presence
It's an overwhelming and beautiful thought to realize that the Bible both begins and ends with God's presence. The Bible opens with the phrase, "In the beginning God…" and then later in Genesis 3 we know that God's presence came down to be with Adam and Eve, because after they sinned, "…Adam and his wife hid themselves from the presence of the Lord God amongst the trees of the garden."
Flip to the end of your Bible, and you'll see the picture of God's presence as well. All of earth and heaven collide to create a sanctuary where God dwells with man.
"And I saw a new heaven and a new earth: for the first heaven and the first earth were passed away; and there was no more sea. And I John saw the holy city, new Jerusalem, coming down from God out of heaven, prepared as a bride adorned for her husband. And I heard a great voice out of heaven saying, Behold, the tabernacle of God is with men, and he will dwell with them, and they shall be his people, and God himself shall be with them, and be their God." ~ Revelation 21:1-3 KJV
We see that God has created a new "Eden", expanding a new heaven and new earth where all of God's people will enjoy his presence forever.
Sin Undermines the Experience We Have with God's Presence
God's original plan was to have fellowship with the people he created. He walked with Adam and Eve in the Garden of Eden before the fall. But when Adam and Eve ate that forbidden fruit, blessings were replaced with curses. The curse that came with sin hindered everything, particularly the way that man could experience God's presence. Disobedience resulted in Adam and Eve becoming exiles, forced to live outside of Eden, and that presence of God they once knew so freely no longer is free. Sin now hinders everything.
Jesus Paid the Price to Bring God's Presence Back to Us
Despite the fact that man sinned and undermined the experience we have with God's presence, God wasn't caught off guard. Grace was the answer, and Jesus stepped in to pay the price for our sin. Jesus becomes our covenant Redeemer to restore what man once had with God – relationship. God does this so He can have that fellowship with us again. At the very heart of the covenant with God is relationship. And when Jesus dies on the cross, the curtain sectioning off the Holy of Holies is rented in two because we're no longer held back from the presence of God. Jesus came and made the ultimate sacrifice so that we can come boldly into the presence of God without fear and have a deep relationship with the one who loved us enough to die for us.
The Presence of God is the Goal and the Means of Redemption

God's presence in our lives is the key goal in the mission of redemption. All that God has done ends with God dwelling with us. But secondly, the presence of God is also the very means by which God fulfills his redemptive mission. God writes himself (Jesus) into this story to bring his people salvation. And to understand redemption, the Scriptures, and how salvation changes us, we must know God's presence.
God's Relational Presence is Essential to Our Christian Walk
Be honest. It's often easy to turn God into a "magic genie". Many people make the mistake of waiting until a problem occurs to turn to God. But this is not how relationships work. God doesn't want to be a "genie" left in a bottle until needed; he wants a relationship with us, and relationships require time spent together regularly. Our ability to live a Christian life hinges upon being in the presence of God, and it's the key to a life of victory over sin and joy unspeakable.
7 Ways You Can Experience the Presence of God
God has promised that he'll never leave or forsake us, and we can always count on the promise of his presence in our lives. However, there are times that we may feel like God has left us. Perhaps you're struggling with unanswered prayer. Maybe you've been too busy with your day-to-day life to spend as much time with God as you should, and you feel guilty and worry that God doesn't want to be with you. You can always be assured of God's constant presence in your life, even if you don't feel it. However, when God's presence feels far away, here are several ways that you can sense and experience His presence.
1 – Confess Any Sin in Your Life
Sometimes we don't feel God's presence in our life because there's something that's blocking the communication between you and God. While He hasn't left, unconfessed sin can affect your sensitivity to his presence. Look at what King David had to say:
"When I kept silent, my bones waxed old through my roaring all day long. For day and night thy hand was heavy upon me: my moisture is turned into the drought of summer. Selah. I acknowledge my sin unto thee, and my iniquity have I not hid. I said, I will confess my transgressions unto the Lord; and thou forgavest the iniquity of my sin. Selah."

Psalm 32: 3-5 KJV
Perhaps you don't feel God's presence in your life strongly because you haven't talked to him in some time. Maybe you've been avoiding God because you know you've sinned. When you confess any sin in your life, he'll be faithful to forgive you, and fellowship will be restored.
2 – Read Your Bible
When you dig into God's word, you find his words to you. Read it daily. You may even want to read it aloud. Speaking the Word of God audibly can help you sense both his power and his presence. Remember, God's word is "…quick, and powerful, and sharper than any two-edged sword, piercing even to the dividing asunder of soul and spirit…" (Hebrews 4:12 KJV). As you read the Bible, it'll grab you with conviction, determination, inspiration, or all three.
3 – Pray for God's Presence in Your Life
There's power in saying the name of Jesus and in calling on His name in prayer. If you want to feel more of God's presence in your life, spend more time in prayer. Pray for more of His presence in all areas of your life. Begin saying His name, claiming the power of Jesus. Let Jesus know that you need more of Him. It is truly the simple, earnest prayers that penetrate the heart of Jesus – and our own heart – the fastest. If you're missing the feeling of His presence, examine your prayer life. And get down on your knees and pray for more of Him.
4 – Experience God's Creation
God created this incredible world that we live in, and He created it for his enjoyment and for our enjoyment. Longing to feel the presence of God? Get out and experience God's incredible creation. Take a walk outdoors, enjoy the scenery God's created around you, and pour out your heart to Him. I can think of many times when God has so overwhelmed me with His presence as I sat outside and took in a sunset and marveled at the incredible painter he is. Long walks through fall leaves or at dusk as the stars started to shine have been times when I have poured out everything in my heart to Jesus and found communion with him. Take in His creation. Look for his touch all around you. Connect with God as you connect with nature. The stunning beauty God has put all around us reminds us that God is with us.
5 – Give God the Sacrifice of Praise
Do you want to feel more of God's presence? Start praising Him. Give Him thanks. God inhabits the praises of the people he loves. Have you ever felt close to God in church while you were singing and lifting your hands in praise? That's when worship is happening, and God is in the midst of worship. And you don't have to be in church to worship and praise Him. Praise Him in your car. Sing praises to God around your house. You're no longer focusing on yourself but on Him. And when you open the door of your heart and pour out praise and love to Jesus, He's going to meet you with His presence right there.
6 – Find Some Quiet Time
In today's busy world, sometimes we don't sense God's presence like we want to because we have too much going on. Everything around us is trying to drown God out. There's so much confusion. Too much noise around us. We're too busy. We're too focused on our phones or entertainment. We have too many things on our minds. Too much stress and anxiety. What we need is to set aside some time to just be quiet with Jesus. Put down your phone. Turn everything off. Sit down, and just breathe. In the quietness, center your mind on Jesus. Give him your worries. As the cares of life come to your mind, give them to him. Be still. Give God the space to commune with you.
Bible Verses to Remind You That God's Presence is With You
Have you ever felt like God's presence was far away? Fear is a common weapon used by Satan. And he often tells us the lie that God is far away from us – that he's not really with us. If Satan can keep us from experiencing the fullness of the presence of God, he gets a foot in the door.
We've all had moments when we felt like God was distant. But the Bible tells us that this is not the truth. God repeatedly promises us in His Word that he is with us always. We have the promise of God's presence – God is with us. If you feel like God is far away right now, arm yourself with these verses that will assure you God is always with you.
"Fear thou not; for I am with thee: be not dismayed; for I am thy God: I will strengthen thee; yea, I will help thee; yea, I will uphold thee with the right hand of my righteousness." ~ Isaiah 41:10 KJV
"For where two or three are gathered together in my name, there am I in the midst of them." ~ Matthew 18:20 KJV
"And he said, My presence shall go with thee, and I will give thee rest." ~ Exodus 33:14 KJV
"Have not I commanded thee? Be strong and of good courage; be not afraid, neither be thou dismayed: for the Lord thy God is with thee whithersoever thou goest." ~ Joshua 1:9 KJV
"The Lord thy God in the midst of thee is mighty; he will save, he will rejoice over thee with joy; he will rest in his love, he will joy over thee with singing." ~ Zephaniah 3:17 KJV
"Be strong and of good courage, fear not, nor be afraid of them: for the Lord thy God, he it is that doth go with thee; he will not fail the, nor forsake thee." ~ Deuteronomy 31:6 KJV
"Teaching them to observe all things whatsoever I have commanded you: and, lo, I am with you always, even unto the end of the world. Amen." ~ Matthew 28:20 KJV
"For I am persuaded, that neither death, nor life, nor angels, nor principalities, nor powers, nor things present, nor things to come, nor height, nor depth, nor any other creature, shall be able to separate us from the love of God, which is in Christ Jesus our Lord." ~ Romans 8:38, 39 KJV
"Let your conversation be without covetousness; and be content with such things as ye have; for he hath said, I will never leave thee, nor forsake thee." ~ Hebrews 13:5 KJV
"And we have known and believed that the love that God hath to us. God is love; and he that dwelleth in love dwelleth in God, and God in him." ~ I John 4:16 KJV
And, behold, I am with thee, and will keep thee in all places whither thou goest, and will bring thee again into this land; for I will not leave thee, until I have done that which I have spoken to thee of." ~ Genesis 28:15 KJV
"Yea, though I walk through the valley of the shadow of death, I will fear no evil: for thou art with me; thy rod and thy staff they comfort me." ~ Psalm 23:4 KJV
"And I heard a great voice out of heaven saying, Behold, the tabernacle of God is with me, and he will dwell with them, and they shall be his people, and God himself shall be with them, and be their God." ~ Revelation 21:3 KJV
"Thou wilt shew me the path of life: in thy presence is fullness of joy; at thy right hand there are pleasures for evermore." ~ Psalm 16:11 KJV
Conclusion:
There is nowhere you can go where God will not be present. He promises that His presence is with us everywhere. On the job. At school. When you're at the store. At church. When you're ministering to others. When you're dealing with the challenges and pains of life.
I remember clearly back in my college days studying Greek. I don't remember everything I learned (it's been a few years), but one of the things that stands out to me is studying the Greek word for "Comforter" used in the New Testament (John 14:16, John 16:7 and elsewhere) 'paracletos.' Translated literally, it means advocate, helper; the one summoned to please your cause and the one who stands beside you.
God promises to be with us. He's given us the fullness of his presence with the Holy Spirit – the Comforter – to stand beside us, to advocate for us, to plead our cause, and to help us.
John Wesley died with the words on his lips, "The best of all is God is with us." We're not ever left alone. You are not ever left alone. God is with us, and His presence stays with us for all our days.