I was excited to see the Disney remake of Aladdin when it was first announced. As a child, and even as an older teenager, I had loved the stories of 1,001 Arabian Nights. I had also loved the animated version of Aladdin. I could really relate to Aladdin, because I always felt that I was sort of an underdog. I never had many friends at school, and there were many things in my life that I wished I could just change, "Poof!"
I was an intense day dreamer as a kid, and one of my favorite fantasies was having my own genie. I could spend hours simply wishing for things. How would I use three wishes? You would need to be so careful not to waste them.
I'm all grown up now, and I realize that nothing comes without serious hard work. Even though I am an adult now, I still see that tendency in myself and in other Christians too sometimes, to still want a magical genie that we can call on to instantly grant us our wishes. I am afraid, though, it is our Heavenly Father that we are trying to stuff into a lamp or a bottle.
We come to God in prayer often much like the characters in the stories I mentioned would come to the Genie. "I would like A, B and C. Thank you very much." We use verses on prayer so drastically out of context that we have convinced ourselves that God owes us an answer to our prayers. If we are good humans, He will do as we ask. Isn't that the deal?
Actually, no, that isn't the deal at all. Most of us greatly misunderstand prayer from the beginning. No, wonder we become bitter and disillusioned when God doesn't answer our prayers.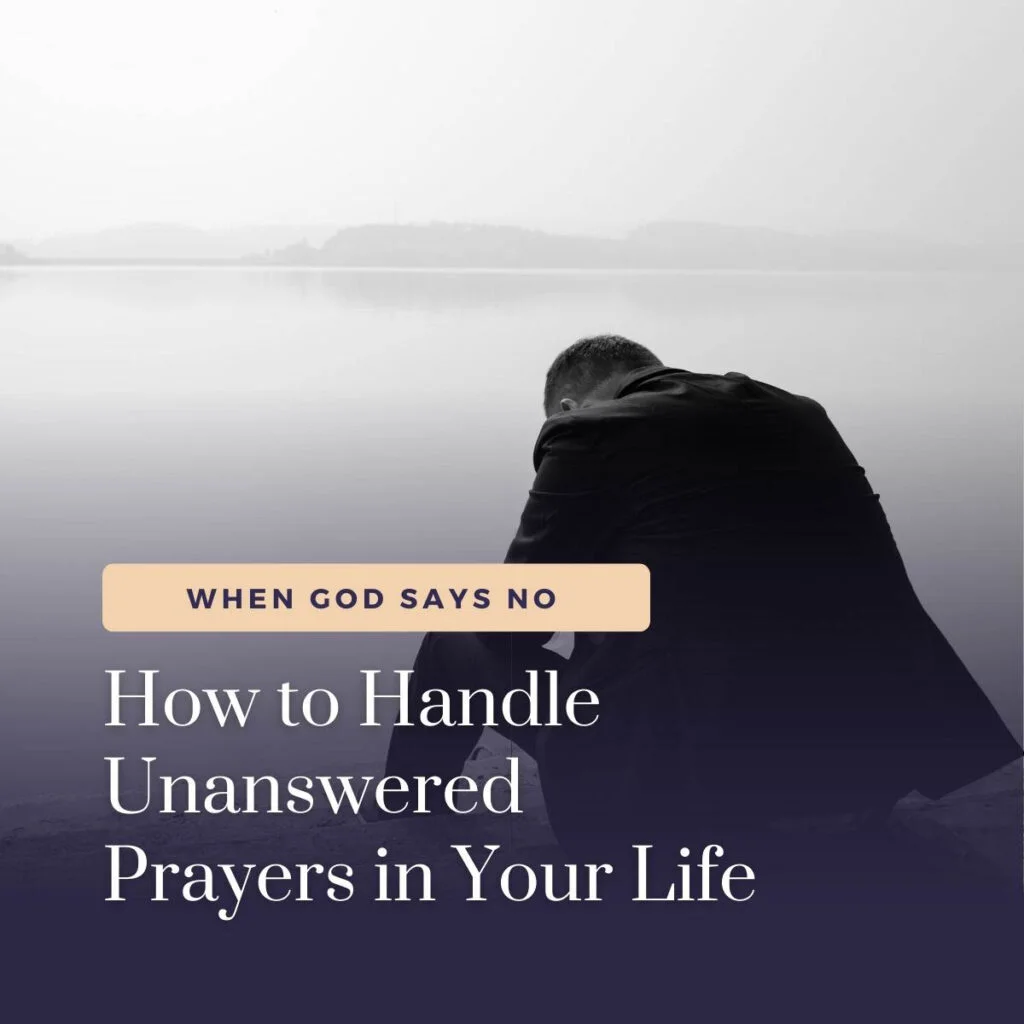 What Should Prayer Be?
If you study history, or you study the Children of Israel in the Old Testament, you will find that they had to deal with a lot of false religions. The promised land of the Hebrews was filled with idolatry and false religions. The Hebrews were supposed to be different. They were supposed to stand out in both their physical practices, their societal practices and in their religious practices.
One of the main things that was different between the Hebrews and the false religions that surrounded them was the way in which they prayed. False religions spend much of their time trying to convince their false gods to do this, or not to do that. Sacrifices had to be made, sometimes even human. Shrines were erected, groves of trees were plants, statues were built. Pretty much all of the amazing architectural accomplishments of the ancient world were built to appease one false god or another.
If you will notice, the Children of Israel do not have many ancient building accomplishments for us to look at today. The reason is because God did not require these types of things. God did not require that prayer be about appeasing Him, or convincing Him. We can learn what prayer was about when we go back to the Garden of Eden.
And they heard the voice of the Lord God walking in the garden in the cool of the day: and Adam and his wife hid themselves from the presence of the Lord God amongst the trees of the garden.

And the Lord God called unto Adam, and said unto him, Where art thou? (Genesis 3:8-9)
Here we see that God was going about his usual activities. What were His usual activities? Visiting Adam in the garden in the cool of the day. God was not some mystical entity that Adam and Eve must suffer for or build statues for. God came to them, right there in the garden and the wording implies that he did this every day during the "cool of the day."
Even from the very beginning, in the Garden of Eden, what God wanted in his relationship with man was fellowship. This sets God apart from all of the other so called gods in the ancient world. God wanted fellowship. There are many other instances where this is proven throughout the Bible.
In 2 Chronicles 20:7 we see what God thought of one of His servants.
Art not thou our God, who didst drive out the inhabitants of this land before thy people Israel, and gavest it to the seed of Abraham thy friend for ever? (2 Chronicles 20:7)
The Bible says that Abraham was God's friend. This is a very different dynamic than the servants of false gods had with their gods. Even a cursory understanding of ancient idol worship shows that these entities were perceived to be harsh, often malevolent beings that must constantly be appeased. God was not looking for that. God wanted to walk with Adam in the garden and have fellowship. God wanted to be Abraham's friend.
There are many examples of God desiring this fellowship with His children.
That which we have seen and heard declare we unto you, that ye also may have fellowship with us: and truly our fellowship is with the Father, and with his Son Jesus Christ. (1 John 1:3)
And he said, My presence shall go with thee, and I will give thee rest. (Exodus 33:14)
For thus saith the high and lofty One that inhabiteth eternity, whose name is Holy; I dwell in the high and holy place, with him also that is of a contrite and humble spirit, to revive the spirit of the humble, and to revive the heart of the contrite ones. (Isaiah 57:15)
What do these verses show us? They show us that God wants prayer to be about fellowship. This is the one thing that makes our Heavenly Father so much different from the false gods of this world. The false religions of the ancient world were built upon humans debasing themselves, and even sometimes sacrificing themselves, or their loved ones. Our God is different because all He asks is that we make room for Him in our hearts, and make time for Him to fellowship with Him in prayer.
What should prayer be? Prayer should be the time when we stop our worlds from spinning so wild, remove ourselves to a place alone with God, and allow our hearts and minds to fellowship with Him.
This means that prayer is not just a time to roll out our wish list and start instructing God on what He needs to do for us.
Why Does The Bible Say Ask and You Will Receive?
Although God's main purpose in our prayer time would be to fellowship with us, it is also a time to talk to God about things we need and even things we desire. God does want to hear this. God does want us to bring these requests to Him.
One of the reasons why prayer is so misunderstood is because we have taken certain verses in the Bible and we use them in a completely unintended way. The most popular prayer verse to get misused is Matthew 21:18-22
18 Now in the morning as he returned into the city, he hungered.

19 And when he saw a fig tree in the way, he came to it, and found nothing thereon, but leaves only, and said unto it, Let no fruit grow on thee henceforward for ever. And presently the fig tree withered away.

20 And when the disciples saw it, they marvelled, saying, How soon is the fig tree withered away!

21 Jesus answered and said unto them, Verily I say unto you, If ye have faith, and doubt not, ye shall not only do this which is done to the fig tree, but also if ye shall say unto this mountain, Be thou removed, and be thou cast into the sea; it shall be done.

22 And all things, whatsoever ye shall ask in prayer, believing, ye shall receive.
In these verses the disciples had just seen Jesus do something miraculous. He had made the fig tree wither. Jesus assures them that when your faith is right you can do this plus more. He goes on to tell them that when your faith is right you can ask anything in prayer and you will receive it.
So, here is where people start getting frustrated with God. They read this verse. They claim this verse and then they begin asking. When God does not supply something that is requested, they become frustrated. Their faith suddenly lags. God does not really answer prayers.
What is the problem? If Matthew 21 is in the Bible, and God does want us to bring our requests to Him, why does He not answer every prayer?
The key to the verses in Matthew 21 is the word faith. Faith can mean both our faith in God, our belief in Him, as well as our practice of faith. So, it is both a matter of our trust in God, as well as our practice on a day to day basis in our walk with Christ.
There is a key element here to the practice of our faith, though. I believe that key element, which is important in the understanding of why and when God answers our prayers is found in Romans 8:26-27.
Likewise the Spirit also helpeth our infirmities: for we know not what we should pray for as we ought: but the Spirit itself maketh intercession for us with groanings which cannot be uttered.

And he that searcheth the hearts knoweth what is the mind of the Spirit, because he maketh intercession for the saints according to the will of God.
Our prayers being answered is entirely reliant upon those prayers being aligned with the will of God. However, in our human forms, with our human minds it is often hard to know exactly what that is. This is why Romans 8:26 says that we often do not even know what we should pray for as we ought. When this happens the Holy Spirit makes intercession for us according to the will of God.
If we have prayed for something, and God did not give it to us, or answer the prayer for us in the way we were hoping, then we must concede that the thing was not part of God's will for us.
What Prayer Should Focus On
If we allowed the majority of our prayer time to focus on aligning our spirit more closely with the Holy Spirit, then we would not waste so much time asking for things that are not God's will for us.
As you grow closer to the Holy Spirit, as you align your spirit with God's spirit, what happens is that God's will becomes more clear to you. What you are asking for will begin to change. You will find yourself asking for more of what is in God's will. At this point God can start answering more of your prayers because you and God are now on the same page. This only happens through time, and prayers of fellowship, not prayers of wishing for this or that.
When The Answer Is No
We also often make the mistake of thinking that the only way God can answer our prayers is by giving us a positive response. This is not true either. Does God want us to bring every request to him? Yes. Does God want to know the desires of our heart? Yes. Does this mean God is going to give us everything we ask for? No. Even when we are in God's will, there will be times with the answer is still no.
In 2 Corinthians 12:7-9 we see a perfect example of God giving one of His servant's no for their answer.
7 -And lest I should be exalted above measure through the abundance of the revelations, there was given to me a thorn in the flesh, the messenger of Satan to buffet me, lest I should be exalted above measure.

8 -For this thing I besought the Lord thrice, that it might depart from me.

9 -And he said unto me, My grace is sufficient for thee: for my strength is made perfect in weakness. Most gladly therefore will I rather glory in my infirmities, that the power of Christ may rest upon me.
Here the Apostle Paul has brought a legitimate prayer request to God. We do not know for sure what Paul's thorn in the flesh was. Many people believe it was a physical ailment. So believe it was a person that was persecuting him. Either way, this was a serious problem for him. It was so serious that he brought it to God three times.
Is it safe to assume that the Apostle Paul was in the will of God while he prayed this prayer? Yes. Had Paul had many other miraculous prayers answered before? Yes. And yet, when he brings this prayer, this personal request, God says no.
At first glance it seems that God is just being cruel. Imagine this were you. You have literally spent your entire life serving God. You have traveled the known world to share the gospel. Thousands of people have been saved because you were faithful to share the gospel with them. You have been imprisoned for Christ. Your life has been threatened for Christ on multiple occasions. You do nothing night and day but focus on God and His will. How would you feel if God told you no?
Disappointment is always a hard pill to swallow. Yet the Apostle Paul does not get bitter or angry. He does not turn his back on God because of this answer. In fact, not having his prayer answered the way he had hoped leads him on to even greater spiritual truths.
2 Corinthians 12:10 Therefore I take pleasure in infirmities, in reproaches, in necessities, in persecutions, in distresses for Christ's sake: for when I am weak, then am I strong.
This passage teaches us many things. One of the most important things that it teaches us is that being in God's will does not mean you know everything God knows. Even the Apostle Paul, one of the most powerful servants of God that has ever lived, did not know everything that God knew. God knew that Paul could learn a better lesson by not having the thorn removed.
Prayer is not our access to a magic genie. Living in God's will is also not our magical access to knowing God's sovereign will. There are things about our life that God may never choose to reveal to us. He may have reasons for saying no that we will never understand until we get to Heaven. We must accept this. We must submit to God's sovereignty.
This is difficult. This is also different from the way many of us view prayer. I'll say this again. Many people think that if they are good people then God should answer their prayers. We need to remove this thinking from our minds. God does not operate like this. He didn't do it for the Apostle Paul every time he prayed, and He is not going to do it for us either.
How Can We Be Happy Then?
If we are supposed to just accept the fact that our heart's desires may not always come true, then how are we supposed to be happy.
We are supposed to be happy the same way Paul found to be happy. When we submit to the sovereign will of God, we will find a new level of peace. When we release our grip on our desires, lay them at the feet of God and leave them there, God will do one of two things. He will either grant us those desires, or He will give us new grace, as He did Paul, to handle the answer of no. What Paul found after hearing a no to his request, was that the new grace and the new strength was better than anything he could have imagined.
Sometimes hearing the answer no is our only door through to a new level of spirituality. God in His sovereignty knows what greater spiritual treasures still lie in wait for us. He also is the only one who can know what it will take to get us there.
The faith that Jesus was talking about in Matthew 21 is the kind of faith that submits to God's sovereign plan even when it contradicts everything that we our desiring in our hearts. When God sees this kind of faith in us, He still may not give us every request, but He will give us the power that He describes in Matthew 21. Most importantly He will begin to shape our desires to align with His desires. This is the most powerful aspect of submission to God.
The Common Reaction To No
Unfortunately, most people do not react to the answer no with grace. Many people immediately interpret a no as meaning that God does not love them. If God loved me He would give me what I want. Few people realize how childish they are when they think like this.
Even a natural parent cannot give their child everything they want. Why? Because the parent has wisdom that the child does not have. The parent knows more about the consequences of the child getting that certain thing. The parent can see farther down the road than the child can. The parent sees a cranky child in the morning getting ready for school because they stayed up too late. The parent see the dental problems in a year if the child doesn't brush their teeth.
It is the same with us, but on a grander scale. God can see farther down the road. In fact He is the only one who can see the big picture. We only see little snap shots of days. God sees the entire masterpiece that is our eternity. God can see how one small decision would be wrong in the bigger scheme of things. We can't understand because it looks so good to us right now.
So, what most people do is become angry. They become bitter. Some people even give up on God or Christianity entirely. This is the same as a little child pitching a tantrum when they do not get their way. They do not care about further down the road. They do not care about the big picture. They are ignorant and short sighted. Christians who get angry with God for not answering all of their prayers are also ignorant and short sighted.
Conclusion
Faith, the faith Jesus talked about in Matthew 21, is the faith that will submit to God's will even when God says no. It is the kind of faith that believes and trusts that God sees a bigger picture than we do. It is the kind of faith that claims Isaiah 55:8-9.
8 – For my thoughts are not your thoughts, neither are your ways my ways, saith the Lord.

9 – For as the heavens are higher than the earth, so are my ways higher than your ways, and my thoughts than your thoughts.
When we really believe this, when we fully trust that God knows best, then we can still have joy and faith even when God does not answer our prayers. Even when God says, no.