Here are some encouragement verses from the Bible – 79 Verses To Help You Get and Stay Encouraged.
If there is one thing we all need from time to time, it has to be major encouragement from the Lord.
Once we enter into God's perfect plan and destiny for our lives, we can never bail out or change course on Him.
We have to set our face like flint, draw out our battle sword, which is the Word of God, and march forward in this life with total fierce determination that we will keep on going for the Lord until the day He calls us home to be with Him for all of eternity.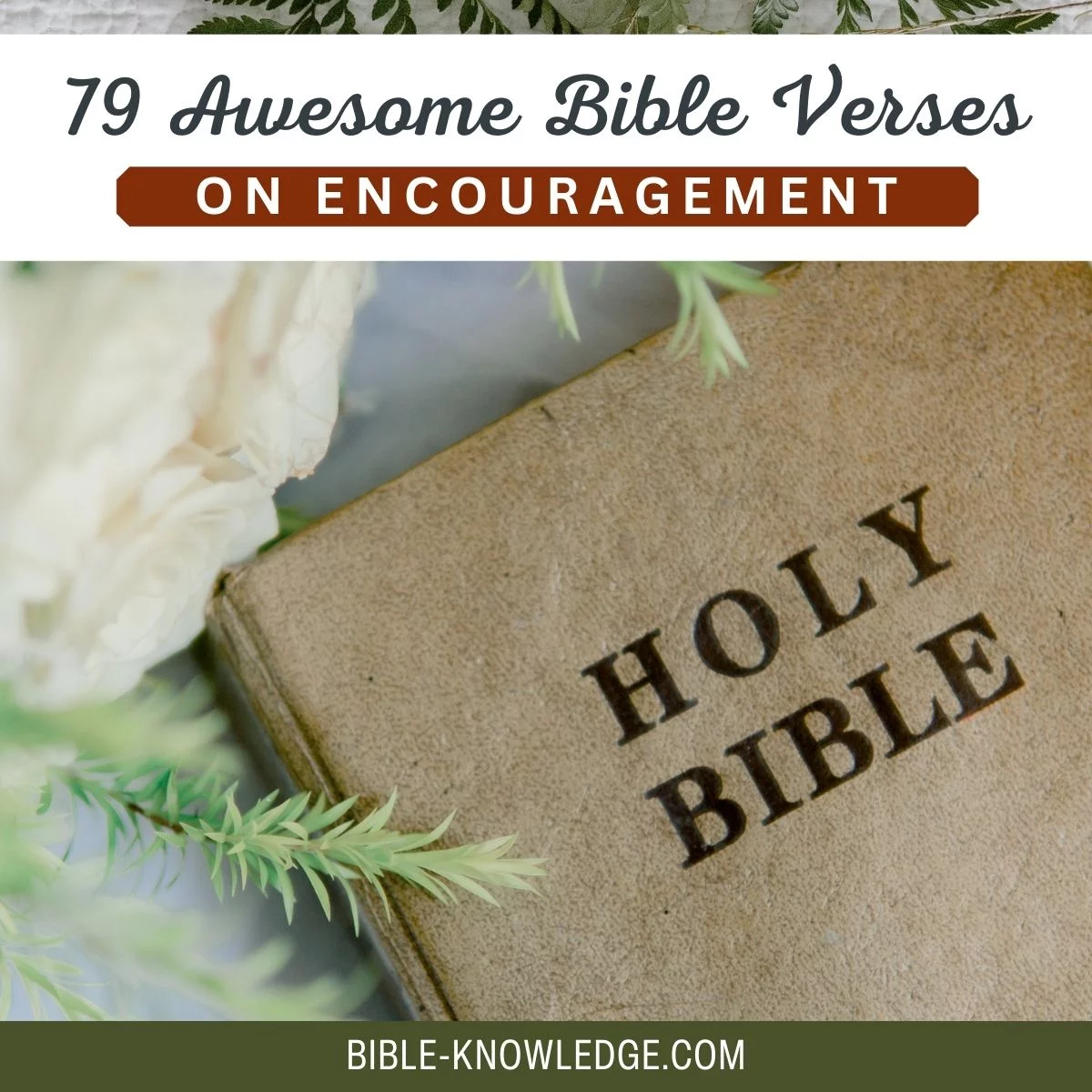 However, as we also know, we can really get weary and beat up at times, especially when we are going through some real dry seasons with the Lord, and there does not seem to be much progress or fruit coming out of lives for Him.
As we have said before, you will have some some lean and dry times in your walk with the Lord from time to time – but this does not mean nothing is happening in the spiritual realm with Him.
Sometimes your greatest strides in spiritual growth will be made in your valley and wilderness experiences with the Lord.
As we all know from the Bible, some of the biggest leaps in promotion have been when people came out of their wilderness and valley experiences with the Lord. Here are 4 good examples:
Moses was in the backside of a desert for 40 years when he was finally called out by God to complete one of the greatest deliverance missions of all time
King David was hiding in caves for a number of years from Saul, when he finally came out to become the greatest kind that Israel has ever had
Joseph literally went from the pit to the palace overnight
Jesus Himself came right out of the wilderness after engaging with the devil, and embarked on the greatest three and half year miracle ministry that the world has ever seen
For those of you who are going through some real tough times right now, and you need some real good verses from the Bible to help keep your chin and faith up in the Lord, here are 79 very powerful verses from the Bible – all telling you not to give up and to keep on relying on the Lord, as sooner or later you will come out of your valley and wilderness experience and be promoted by God into your next level of service for Him.
I am just going to run all of these verses together so you can get the full effect of all of them.
What you will need to do is just sit down and read each one of these verses one right after the other – and really meditate and chew on what each one of them are trying to tell you to do with the Lord. God knew we would need verses like this in our walk with Him, so He made sure to put these kinds of powerful verses in His Word to us.
So take advantage of these kinds of verses and pull them out, read them, and meditate on them when you really need some major encouragement in your life.
They will serve as good pick-me ups and will help keep you in the game, along with helping to prevent you from bailing out on the Lord when the going is getting real tough.
The Scripture Verses For Encouragement
Here are 79 very powerful verses, all telling you to never give up, to keep pressing on, and to fully rely on the Lord and His guidance to get you through the trial and into your next level of service with Him.
"And we know that all things work together for good to those who love God, to those who are the called according to His purpose." (Romans 8:28)
"Yea, though I walk through the valley of the shadow of death, I will fear no evil; for You are with me; Your rod and Your staff, they comfort me." (Psalm 23:4)
"Who walks in darkness and has no light? Let him trust in the name of the Lord and rely upon His God." (Isaiah 50:10)
"Those who sow in tears shall reap in joy." (Psalm 126:5)
"No man shall be able to stand before you all the days of your life; as I was with Moses, so I will be with you. I will not leave you nor forsake you. Be strong and of good courage …" (Joshua 1:5)
"I can do all things through Christ who strengthens me." (Philippians 4:13)
"If God is for us, who can be against us?" (Romans 8:31)
"Even to your old age, I am He, and even to gray hairs I will carry you! I have made, and I will bear; even I will carry, and will deliver you." (Isaiah 46:4)
"For the Lord preserves the faithful …" (Psalm 31:23)
"For whatever is born of God overcomes the world. And this is the victory that has overcome the world – our faith." (1 John 5:4)
"Watch, stand fast in the faith, be brave, be strong." (1 Corinthians 16:13)
"You who love the Lord, hate evil! He preserves the souls of His saints; He delivers them out of the hand of the wicked." (Psalm 97:10)
"Many are the afflictions of the righteous, but the Lord delivers him out of them all. He guards all his bones, not one of them is broken." (Psalm 34:19-20)
"The righteous cry out, and the Lord hears, and delivers them out of all their troubles." (Psalm 34:17)
"He brought them out of darkness and the shadow of death, and broke their chains in pieces." (Psalm 107:14)
"The Lord is my strength and my shield …" (Psalm 28:7)
"In the day when I cried out, You answered me, and made me bold with strength in my soul." (Psalm 138:3)
"O God, You are more awesome than Your holy places. The God of Israel is He who gives strength and power to His people." (Psalm 68:35)
"He gives power to the weak, and to those who have no might He increases strength." (Isaiah 40:29)
"For the Lord will be your confidence, and will keep your foot from being caught." (Proverbs 3:26)
"The Lord is my rock, my fortress and my deliverer; the God of my strength, in Him I will trust, my shield and the horn of my salvation, my stronghold and my refuge, my Savior, You save me from violence." (2 Samuel 22:2)
"Truly my soul silently waits for God; from Him comes my salvation. He only is my rock and my salvation; He is my defense; I shall not be greatly moved." (Psalm 62:1)
"But the Lord is faithful, who will establish you and guard you from the evil one." (2 Thessalonians 3:3)
"I will lift up my eyes to the hills – from whence comes my help? My help comes from the Lord, who made heaven and earth. He will not allow your foot to be moved; He who keeps you will not slumber. Behold, He who keeps Israel shall neither slumber nor sleep. The Lord is your keeper; the Lord is your shade at your right hand. The sun shall not strike you by day, nor the moon by night. The Lord shall preserve you from all evil; He shall preserve your soul. The Lord shall preserve your going out and your coming in from this time forth, and even forevermore." (Psalm 121:1)
"The Lord is my light and my salvation; whom shall I fear? The Lord is the strength of my life; of whom shall I be afraid? When the wicked came against me to eat up my flesh, my enemies and foes, they stumbled and fell. Though an army should encamp against me, my heart shall not fear; though war should rise against me, in this I will be confident." (Psalm 27:1)
"The Lord is on my side; I will not fear. What can man do to me? The Lord is for me among those who help me; therefore I shall see my desire on those who hate me. It is better to trust in the Lord than to put confidence in man. It is better to trust in the Lord than to put confidence in princes. All nations surrounded me, but in the name of the Lord I will destroy them." (Psalm 118:6)
"God is our refuge and strength, a very present help in trouble. Therefore we will not fear, though the earth be removed, and though the mountains be carried into the midst of the sea … God is in the midst of her, she shall not be moved; God shall help her, just at the break of dawn." (Psalm 46:1,5)
"Give us help from trouble, for vain is the help of man. Through God we will do valiantly, for it is He who shall tread down our enemies." (Psalm 60:11)
"For the Lord God will help me; therefore I will not be disgraced; therefore I have set my face like a flint, and I know that I will not be ashamed. He is near who justifies me; who will contend with me? Let us stand together. Who is my adversary? Let him come near me. Surely the Lord God will help me; who is he who will condemn me? Indeed they will all grow old like a garment; the moth will eat them up." (Isaiah 50:7)
"Those who trust in the Lord are like Mount Zion, which cannot be moved, but abides forever. As the mountains surround Jerusalem, so the Lord surrounds His people from this time forth and forever." (Psalm 125:1)
"Oh, bless our God, you peoples! And make the voice of His praise to be heard, who keeps your soul among the living, and does not allow our feet to be moved." (Psalm 66:8)
"Be merciful to me, O God, be merciful to me! For my soul trusts in You; and in the shadow of Your wings I will make my refuge, until these calamities have passed by." (Psalm 57:1)
"The Lord also will be a refuge for the oppressed, a refuge in times of trouble. And those who know Your name will put their trust in You; for You, Lord, have not forsaken those who seek You." (Psalm 9:9)
"Cast your burden on the Lord, and He shall sustain you; He shall not permit the righteous to be moved." (Psalm 55:22)
"Therefore humble yourselves under the mighty hand of God, that He may exalt you in due time, casting all of your care upon Him, for He cares for you." (1 Peter 5:6-7)
"Come to Me, all you who labor and are heavy laden, and I will give you rest. Take My yoke upon you and learn from Me, for I am gentle and lowly in heart, and you will find rest for your souls. For My yoke is easy and My burden is light." (Matthew 11:28-30)
"But we have this treasure in earthen vessels, that the excellence of the power may be of God and not of us. We are hard pressed on every side, yet not crushed; we are perplexed, but not in despair; persecuted, but not forsaken; struck down, but not destroyed – always carrying about in the body the dying of the Lord Jesus, that the life of Jesus also may be manifested in our mortal flesh." (2 Corinthians 4:7-11)
"… rejoicing in hope, patient in tribulation, continuing steadfastly in prayer …" (Romans 12:12)
"And now, Lord, what do I wait for? My hope is in You. Deliver me from all my transgressions." (Psalm 39:7)
"Trust in the Lord with all your heart, and lean not on your own understanding; in all your ways acknowledge Him, and He shall direct your paths." (Proverbs 3:5)
"Delight yourself also in the Lord, and He shall give you the desires of your heart. Commit your way to the Lord, trust also in Him, and He shall bring it to pass … Rest in the Lord, and wait patiently for Him …" (Psalm 37:4-7)
"Those who trust in the Lord are like Mount Zion, which cannot be moved, but abides forever. As the mountains surround Jerusalem, so the Lord surrounds His people from this time forth and forever." (Psalm 125:1)
"He trusted in the Lord God of Israel … For he held fast to the Lord; he did not depart from following Him, but kept His commandments … The Lord was with him; he prospered wherever he went." (2 Kings 18:5-7)
"You will keep him in perfect peace, whose mind is stayed on You, because he trusts in You. Trust in the Lord forever, for in Yah, the Lord, is everlasting strength." (Isaiah 26:3)
"The fear of man brings a snare, but whoever trusts in the Lord shall be safe." (Proverbs 29:25)
"Let us hold fast the confession of our hope without wavering, for He who promised is faithful." (Hebrews 10:23)
"… if indeed you continue in the faith, grounded and steadfast, and are not moved away from the hope of the gospel which you have heard …" (Colossians 1:23)
"To him who overcomes I will grant to sit with Me on My throne, as I also overcame and sat down with My Father on His throne." (Revelation 3:21)
"For God is not unjust to forget your work and labor of love which you have shown toward His name, in that you have ministered to the saints, and do minister. And we desire that each one of you show the same diligence to the full assurance of hope until the end, that you do not become sluggish, but imitate those who through faith and patience inherit the promises." (Hebrews 6:10)
"Therefore do not cast away your confidence, which has great reward. For you have need of endurance, so that after you have done the will of God, you may receive the promise." (Hebrews 10:35)
"Blessed is the man who endures temptation; for when he has been proved, he will receive the crown of life which the Lord has promised to those who love Him." (James 1:12)
"The Lord is good to those who wait for Him, to the soul who seeks Him. It is good that one should hope and wait quietly for the salvation of the Lord." (Lamentations 3:25)
"I would have lost heart, unless I had believed that I would see the goodness of the Lord in the land of the living. Wait on the Lord; be of good courage, and He shall strengthen your heart; wait, I say, on the Lord!" (Psalm 27:13-14)
"For evildoers shall be cut off; but those who wait on the Lord, they shall inherit the earth. For yet a little while and the wicked shall be no more …" (Psalm 37:9)
"O Lord my God, I cried out to You, and You have healed me. O Lord, You have brought my soul up from the grave; You have kept me alive, that I should not go down to the pit … For His anger is but for a moment, His favor is for life; weeping may endure for a night, but joy comes in the morning." (Psalm 30:2,5)
"For with God nothing will be impossible." (Luke 1:37)
But He said, "The things which are impossible with men are possible with God." (Luke 18:27)
But Jesus looked at them and said to them, "With men this is impossible, but with God all things are possible." (Matthew 19:26)
Then Jesus said to him, "If you can believe, all things are possible to him who believes." (Mark 9:23)
As soon as Jesus heard the word that was spoken, He said to the ruler of the synagogue, "Do not be afraid; only believe." (Mark 5:36)
"For You, O God, have proved us; You have refined us as silver is refined. You brought us into the net; You laid affliction on our backs. You have caused men to ride over our heads; we went through fire and through water; but You brought us out to rich fulfillment." (Psalm 66:10)
"Then they cry out to the Lord in their trouble, and He brings them out of their distresses. He calms the storm, so that its waves are still. Then they are glad because they are quiet; so He guides them to their desired haven." (Psalm 107:28)
"You have seen what I did to the Egyptians, and how I bore you on eagles' wings and brought you to Myself." (Exodus 19:4)
"For we do not want you to be ignorant, brethren, of our trouble which came to us in Asia: that we were burdened beyond measure, above strength, so that we despaired even of life. Yes, we had the sentence of death in ourselves, that we should not trust in ourselves but in God who raises the dead, who delivered us from so great a death, and does deliver us; in whom we trust that He will still deliver us …" (2 Corinthians 1:8)
"No weapon formed against you shall prosper, and every tongue which rises against you in judgment you shall condemn. This is the heritage of the servants of the Lord, and their righteousness is from me," says the Lord. (Isaiah 54:17)
"Through You we will push down our enemies; through Your name we will trample those who rise up against us. For I will not trust in my bow, nor shall my sword save me. But You have saved us from our enemies, and have put to shame those who hated us. In God we boast all day long, and praise Your name forever." (Psalm 44:5)
"For the eyes of the Lord run to and fro throughout the whole earth, to show Himself strong on behalf of those whose heart is loyal to Him." (2 Chronicles 16:9)
"… but the people who know their God shall be strong, and carry out great exploits." (Daniel 11:32)
"This is the word of the Lord to Zerubbabel: 'Not by might, nor by power, but by My Spirit,' says the Lord of hosts. (Zechariah 4:6)
"Blessed be the Lord my Rock, who trains my hands for war, and my fingers for battle – my lovingkindness and my fortress, my high tower and my deliverer, my shield and the One in whom I take refuge, who subdues my people under me." (Psalm 144:1)
"For You are my lamp, O Lord; the Lord shall enlighten my darkness. For by You I can run against a troop; by my God I can leap over a wall. As for God, His way is perfect; the word of the Lord is proven; He is a shield to all who trust in Him." (2 Samuel 22:29)
"Now to Him who is able to do exceedingly abundantly above all that we ask or think, according to the power that works in us." (Ephesians 3:20)
"And my God shall supply all your need according to His riches in glory by Christ Jesus." (Philippians 4:19)
"And God is able to make all grace abound toward you, that you, always having all sufficiency in all things, have an abundance for every good work." (2 Corinthians 9:8-11)
"But those who seek the Lord shall not lack any good thing." (Psalm 34:11)
"The Lord will give grace and glory; no good thing will He withhold from those who walk uprightly." (Psalm 84:11)
"And the Lord restored Job's losses when he prayed for his friends. Indeed the Lord gave Job twice as much as he had before … Now the Lord blessed the latter days of Job more than his beginning …" (Job 42:10,12)
"Not that I have already attained, or am already perfected; but I press on, that I may lay hold of that for which Christ Jesus has also laid hold of me." (Philippians 3:12)
"I have fought the good fight of faith, I have finished the race, I have kept the faith. Finally, there is laid up for me the crown of righteousness, which the Lord, the righteous Judge, will give to me on that Day, and not to me only but also to all who have loved His appearing." (2 Timothy 4:7)
Many of these verses are in some of our other articles per the different types of topics we have been talking about. But all of these verses are some of the best of the best in each of their categories – and when you put all of them together that pertain to needing good encouragement from the Lord, they will all feed you and uplift you better than any other book or person can do in this life.
You can really feel the power and the authority on all of these verses, especially when you string all of them together like we have done in this article.
These verses should be more than enough to see you through any personal trial or dry season you may be going through with the Lord.
Conclusion
When you read each one of these powerful verses for encouragement one right after the other, you simply cannot miss what God is trying to tell you.
Again, if any of you are going through some real tough times right now, keep your faith up and alive in the Lord, and ground and believe on what these kinds of verses are all telling you to do.
These encouraging verses are all God's direct Word to you, and you can totally rely and ground on each one of them, as God cannot lie or deceive you in any way.
All of these verses are anointed by God Almighty Himself, and they will all feed you and encourage you better than anything else in this world can do.
Another thing you can do with this many verses is to copy and paste which ones you will really like to focus on onto a Word Document.
From there, you can put them in the order you would like, and then print out this personalized list so you can have this list to study and meditate from.
Let us hear your testimonials on the Bible verses for encouragement.