Whether your 2023 was one packed with excitement and joy or a year of struggles and sorrow, entering a new year brings with it hope for the future. It doesn't matter what's going on in your life right now – as you step into a new year, you can hold onto Emmanuel, our "God with us." The year may be changing, it may seem like the world is shifting, but God doesn't change.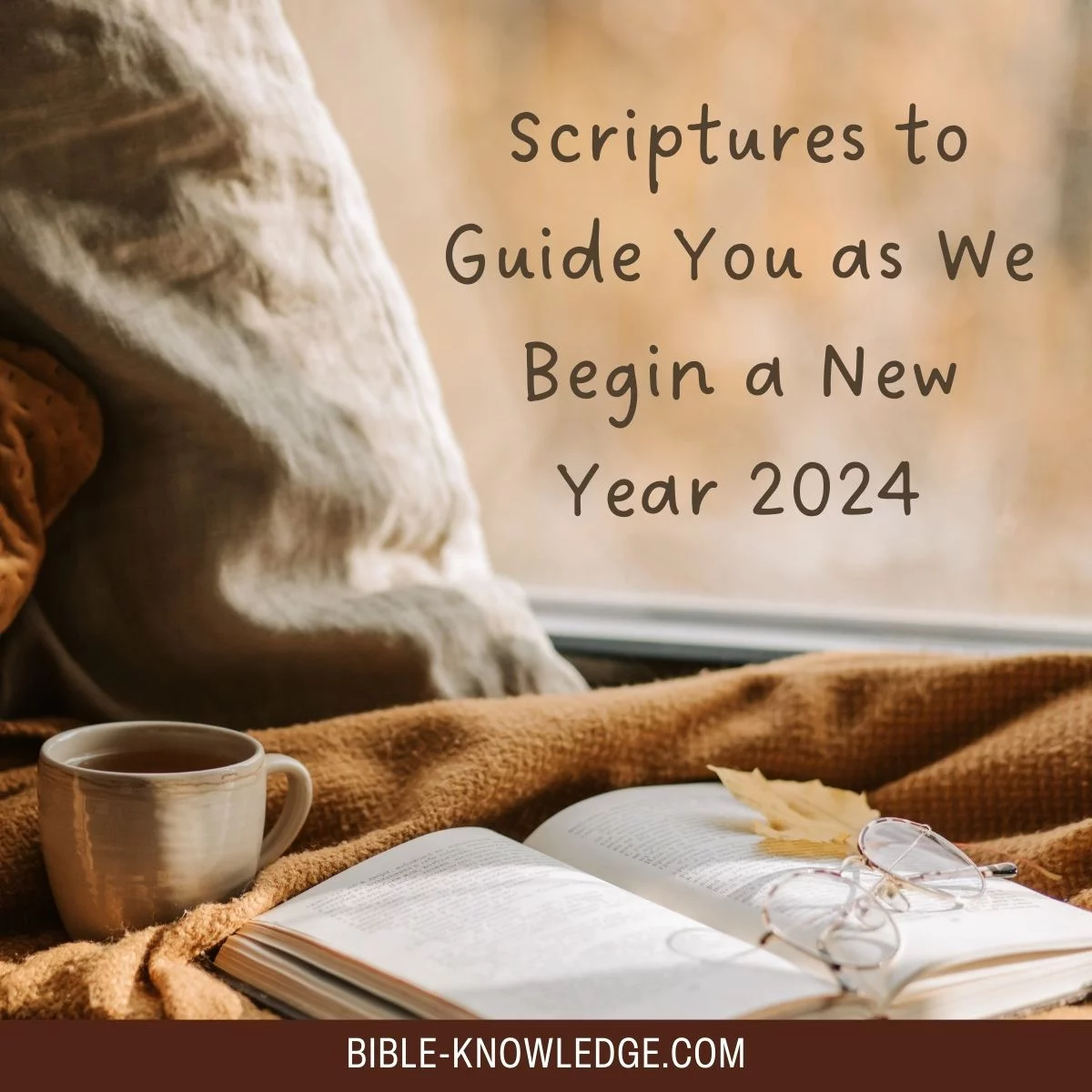 Of course, as we move into 2024, it offers a fresh start for us. While many people make resolutions for their new year – and there's nothing wrong with that – statistics show that most resolutions get abandoned after just a few weeks. They don't last. But whether you decide to come up with resolutions or goals for yourself in the coming year, the most important thing is to determine to move into a new year closer to God and with renewed purpose.
Although the Bible doesn't specifically say much about celebrating a new year, there's plenty of wisdom we can draw from its pages as we leave 2023 in the past and move forward into 2024. Whether you're spending some time looking back on the past year, worrying about the future, or trying to let go of what's behind you, we've put together some helpful verses that will guide you, encourage you, and help you step forward into the new year with faith.
Looking Back on God's Grace in 2023
Whether you've had good times, trials and tribulations, or a sprinkling of both in 2023, God is faithful. And if you spend some time looking back on the past year of your life, you'll see that He's been there with you; he's been working in your life, even when you didn't realize it. While it's never a good idea to get lost in our past, as you move ahead into 2024, it's a good idea to look back on God's incredible grace, and here are a few verses that remind us of this.
"Give thanks unto the Lord, call upon his name, make known his deeds among the people." (1 Chronicles 16:8)
"Seek the Lord and his strength, seek his face continually. Remember his marvelous works that he hath done, his wonders, and the judgments of his mouth." (1 Chronicles 16:11-12)
"Nevertheless the Lord thy God would not hearken unto Balaam; but the Lord thy God turned the curse into a blessing unto thee, because the Lord thy God loved thee." (Deuteronomy 23:5)
"It is of the Lord's mercies that we are not consumed, because his compassions fail not. They are new every morning: great is thy faithfulness. The Lord is my portion, saith my soul; therefore will I hope in him. The Lord is good unto them that wait for him, to the soul that seeketh him." (Lamentations 3:22-25)
"Every good gift and every perfect gift is from above, and cometh down from the Father of lights, with whom is no variableness, neither shadow of turning." (James 1:17)
After you read through these verses, take a moment to think about the marvelous works God has already done for you in the past. Consider how he has turned curses into blesses. Meditate on His faithfulness to you in the past year. Give thanks for what God has already done for you, so you move into 2024 with thanksgiving and a heart of praise for what's already been done in your life. He's been faithful!
Leaving the Past in the Past and Focusing on God's Future Plans
Reflecting on the past is good. It gives us time to think about God has worked in our lives. But there are always things that we would rather leave in the past – things we should leave in the past in order to move forward. The Scriptures remind us in several places that it's important to leave the past behind, stop holding onto it, and move forward boldly into our future. And the following Bible verses can help us focus our minds on leaving the past and the past, moving forward, and focusing on God's future plans for our lives.
"I am crucified with Christ: nevertheless I live; yet not I, but Christ liveth in me: and the life which I now life in the flesh I live by the faith of the Son of God, who loved me, and gave himself for me." (Galatians 2:20)
"Remember ye not the former things, neither consider the things of old. Behold, I will do a new thing; now it shall spring forth; shall ye not know it? I will even make a way in the wilderness, and rivers in the desert." (Isaiah 43:18-19)
"Therefore if any man be in Christ, he is a new creature: old things are passed away; behold, all things are become new." 2 Corinthians 5:17
"A man's heart deviseth his way: but the Lord directeth his steps." (Proverbs 16:9)
"Brethren, I count not myself to have apprehended: but this one thing I do, forgetting those things which are behind, and reaching forth unto those things which are before, I press toward the mark for the prize of the high calling of God in Christ Jesus." (Philippians 3:13-14)
"For I know the thoughts that I think toward you, saith the Lord, thoughts of peace, and not of evil, to give you an expected end. Then shall ye call upon me, and ye shall go and pray unto me, and I will hearken unto you. And ye shall seek me, and find me, when you shall search for me with all your heart." (Jeremiah 29:11-13)
Several of these verses talk about old things being passed away and forgetting the things behind us. We don't have to live in the past. If it's been a difficult year, we can acknowledge that, praise God for how He's helped us through, and then let go and move on. Holding on leads to bitterness. It can lead us to live in the past instead of moving into the good things God has for us. And then, as we let go, we can focus on God's plan for us in the coming year. He promises to bless us, make a way in the wilderness, direct our steps, and that we shall find Him when we seek with all our hearts.
Don't Worry About 2024 – You Have Nothing to Fear
Although we don't know what 2024 will bring, we're reminded repeatedly in the Bible that we don't need to worry about anything when we keep our focus on Jesus. God will be with us in the new year. He'll be our strength. He'll guide us. And when we stay close to Him and hold His hand, we have nothing to fear. If you're feeling apprehensive about a new chapter or you're worried about might what be in store for the new year, here are a few verses to reflect on that will give you peace.
"Be careful for nothing: but in every thing by prayer and supplication with thanksgiving let your requests be made known unto God. And the peace of God, which passeth all understanding, shall keep your hearts and minds through Christ Jesus." (Philippians 4:6-7)
"Let your conversation be without covetousness; and be content with such things as ye have: for he hath said, I will never leave thee, nor forsake thee. So that we may boldly say, The Lord is my helper, and I will not fear what man shall do unto me." (Hebrews 13:5-6)
"But seek ye first the kingdom of God, and his righteousness; and all these things shall be added unto you. Take therefore no thought for the morrow: for the morrow shall take thought for the things of itself. Sufficient unto the day is the evil thereof." (Matthew 6:33-34)
"Trust in the Lord with all thine heart; and lean not unto thine own understanding. In all thy ways acknowledge him, and he shall direct thy paths." (Proverbs 3:5-6)
"Fear thou not; for I am with thee: be not dismayed; for I am thy God: I will strengthen thee; yea, I will help thee; yea, I will uphold thee with the right hand of my righteousness. Behold, all they that were incensed against thee shall be ashamed and confounded: they shall be as nothing; and they that strive with thee shall perish. Thou shalt seek them, and shalt not find them, even them that contended with thee: they that war against thee shall be as nothing, and as a thing of nought. For I the Lord thy God will hold thy right hand, saying unto thee, Fear not; I will help thee." (Isaiah 41:10-13)
"Casting all your care upon him; for he careth for you." (1 Peter 5:7)
God's promises are comforting, and we know we can count on them. Don't worry about the future. But instead, make your requests made known to him, and He'll give you His peace for this new year. He's promised never to leave us. We're reminded to take no thought for tomorrow. He'll direct our paths. He'll strengthen us and help us. Why? Because He cares for us so greatly. You can stop worrying – God's got it under control. He's not going to let you down in 2024 – He has a plan for you! Rest in that.
Planning is Important but Don't Forget to Let God Guide You
It is important to plan ahead, and the Bible talks about that in several places. But even if you're making plans for the coming year, don't forget to let God guide you. Remember, God sees the big picture – He sees his overall plan. So, plan ahead. Seek God about your future. And then, remember to submit to the plans He has for your life as He guides you.
"Be thou diligent to know the state of thy flocks, and look well to thy herds. For riches are not for ever: and doth the crown endure to every generation?" (Proverbs 27:23-24)
"Wise people think before they act; fools don't – and even brag about their foolishness." (Proverbs 13:16 NLT)
"For which of you, intending to build a tower, sitteth not down first, and counteth the cost, whether he have sufficient to finish it? Les haply, after he hath laid the foundation, and is not able to finish it, all that behold it begin to mock him, Saying, This man began to build, and was not able to finish." (Luke 14:28-30)
"For I know the plans I have for you, says the Lord. They are plans for good and not for disaster, to give you a future and a hope. In those days when you pray, I will listen. If you look for me wholeheartedly, you will find me." (Jeremiah 29:11 NLT)
"Trust in the Lord with all your heart; do not depend on your own understanding. Seek his will in all you do, and he will show you which path to take. Don't be impressed with your own wisdom. Instead, fear the Lord and turn away from evil. Then you will have healing for your body and strength for your bones." (Proverbs 3:5-8 NLT)
Yes, it's important to think, plan, and avoid being foolish about our future. But don't get so wrapped up in your own plans that you forget about God's plans for you. Remember, He says He knows the plans that He has for you – and they are good plans to give you a future and hope! Don't just lean on your own understanding but seek His will and His paths. That's the key to 2024 that is filled with God's blessings.
You'll Only Find Contentment in God in 2024
As you let go of 2023 and begin a new year, it's so essential to remember that you'll only find contentment in God this year. Many times, we set goals or come up with resolutions based upon things we think will make us happy. But the truth – only God can make us happy. We'll only find the joy we want when we focus on Him, give Him thanks, and work to draw closer to Him. Peace for this new year will come from God. Happiness will come from coming to God with praise. As you read the following verses, let your heart overflow with gratefulness for what God has already done for you. Open your heart to Him and let Him give you His peace and contentment as you walk into the new year. Meditate on these verses.
"And he said unto me, My grace is sufficient for thee: for my strength is made perfect in weakness. Most gladly therefore will I rather glory in my infirmities, that the power of Christ may rest upon me. Therefore I take pleasure in infirmities, in reproaches, in necessities, in persecutions, in distresses for Christ's sake: for when I am weak, then am I strong." (2 Corinthians 12:9-10)
"Not that I speak in respect of want: for I have learned, in whatsoever state I am, therewith to be content. I know both how to be abased, and I know how to abound: every where and in all things I am instructed both to be full and to be hungry, both to abound and to suffer need. I can do all things through Christ which strengtheneth me." (Philippians 4:11-13)
"But thanks be to God, which giveth us the victory through our Lord Jesus Christ. Therefore, my beloved brethren, be ye steadfast, unmovable, always abounding in the work of the Lord, forasmuch as ye know that your labor is not in vain in the Lord." (1 Corinthians 15:57-58)
"O sing unto the Lord a new song: sing unto the Lord, all the earth. Sing unto the Lord, bless his name; shew forth his salvation from day to day. Declare his glory among the heathen, his wonders among all people. For the Lord is great, and greatly to be praised: he is to be feared above all gods." (Psalm 96:1-3)
"Make a joyful noise unto the Lord, all ye lands. Serve the Lord with gladness: come before his presence with singing. Know ye that the Lord he is God: it is he that hath made us, and not we ourselves; we are his people, and the sheep of his pasture. Enter into his gates with thanksgiving, and into his courts with praise: be thankful unto him, and bless his name. For the Lord is good; his mercy is everlasting; and his truth endureth to all generations." (Psalm 100:1-5)
In Conclusion:
Personally, going into the new year is a quiet time for me. One of reflection. While much of the world parties and drinks in another year, I prefer to pray it in. The promise of a new beginning is wonderful, and while new beginnings often seem daunting, I want to look forward to a year of blessings based on the promises of God.
As we start this new year, take a little quiet time with God. Reflect on what He's done for you in the past year. Get ready to leave the past in the past and move forward without worry…because God is already in the future. Make plans, but let God direct your paths. And remember, God is the key to contentment in the coming year. If there was one passage of scripture I would leave with you to meditate on as you begin 2024, it is this:
"Put on therefore, as the elect of God, holy and beloved, bowels of mercies, kindness, humbleness of mind, meekness, longsuffering; Forbearing one another, and forgiving one another, if any man have a quarrel against any: even as Christ forgave you, so also do ye. And above all these things put on charity, which is the bond of perfectness. And let the peace of God rules in your hearts, to the which also ye are called in one body; and be ye thankful. Let the word of Christ dwell in you richly in all wisdom, teaching and admonishing one another in psalms and hymns and spiritual songs, singing with grace in your hearts to the Lord. And whatsoever ye do in word or deed, do all in the name of the Lord Jesus, giving thanks to God and the Father by him." (Colossians 3:17)