For those of you who would like to enter into the deliverance ministry for the Lord where you will let Him use you to cast demons out of people, one of the first things you will need to do is to learn all of the rules of this kind of game with the Lord.
If you do not learn what the rules are on of this kind of intense game with the Lord, then you could easily set yourself up to be attacked by these demons.
But learn the rules of this game and how to navigate these kinds of waters and you should have no problems in being able to help set people free from any kind of demonic bondage they may be under, as God will help keep you safe and out of harm's way if you stay under His direct leadings on how to do all of this.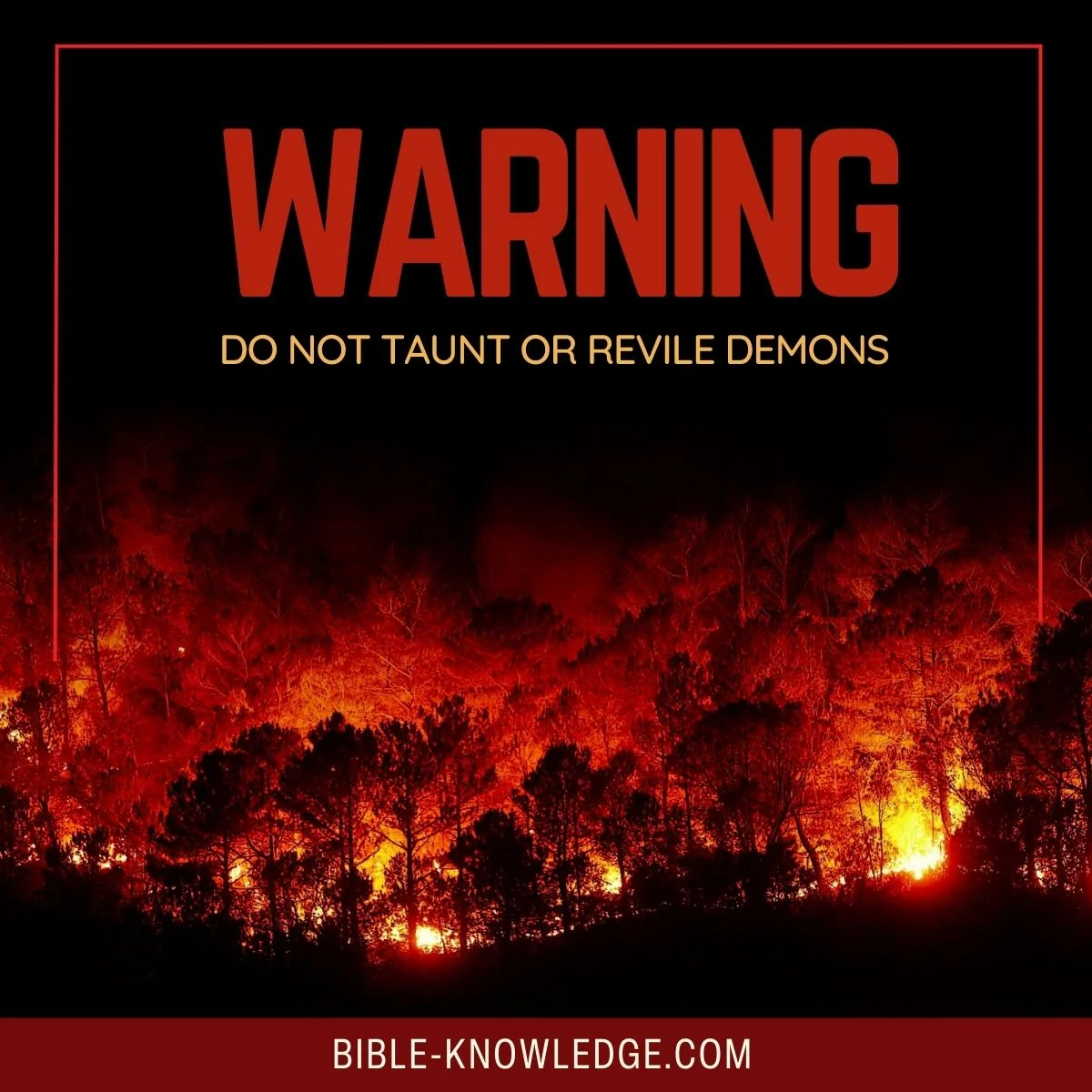 In this article I want to give you one of the first basic rules that you will need to abide by.
This particular rule is not talked about very often, so I thought I would do this short article for our Spiritual Warfare section so you will know exactly what this rule is all about and to make sure that you never violate it.
This first basic rule is that you should never try and taunt, bad-mouth, or speak down to the demons in any kind of reviling or condescending type way. Here is the verse from our Bible that will give us this first basic rule of spiritual warfare:
"Yet, Michael the archangel, in contending with the devil, when he disputed about the body of Moses, dared not bring against him a reviling accusation, but said, "The Lord rebuke you!" (Jude 9)
In this verse, there are three key words to key in on. The first word is that the archangel Michael was "contending" with the devil. In other words, he was directly engaging with the devil over the body of Moses. And then notice the next set of intense words, that he "dared not" bring against him a "reviling" accusation.
The key word in all of this is the word "reviling." The word "reviling" means the following:
To speak of another abusively
Verbal abuse
To humiliate
To use abusive or contemptuous language
To call bad names
Railing or scolding
Rebuking angrily
Quarreling noisily
Disparaging remarks
Then notice that Michael "dared not" to try and bring a reviling accusation against the devil. The words "dared not" are again two more extreme words that the Lord is using. These two extreme words from our Lord are telling us under no circumstances are we to try and talk down to our enemies with any kind of abusive, humiliating, or condescending type language.
The Bible seems to indicate that Michael the archangel is one of God's highest, if not the highest of all of His archangels. And if Michael was not allowed to speak out any kind of abusive, reviling, or demeaning words direct to the devil himself, then we as good soldiers of Jesus Christ should do the exact same thing if we are ever forced to directly engage with any demons in this life.
In other words, we are not allowed to bad mouth and speak down to the devil and his demons once we start to directly engage with them in any kind of spiritual warfare, whether it be to protect ourselves or to protect someone else.
To put this spiritual warfare rule in our every day language – we are simply not to tell the devil and his demons that they are stupid, low-lives, morons, idiots, imbeciles, scum, wimps, etc. We are to boldly, courageously, and forcefully engage with them, telling them what they need to do and where they need to go, but we are not to talk down to them, ridicule them, or make fun of them while we are directly engaging with them.
Jesus Himself also abided by this rule when He was casting demons out of people. Jesus forcefully and with great authority told the demons what they had to do and where they had to go, but at no time did He ever talk down to them, ridicule them, or talk to them with any kind of demeaning or condescending type language.
Though Satan and his demons are already defeated foes and have now all descended down into the lowest levels of evil and depravity, they are still all created beings by the Lord Himself, and as such, we are to never talk down to them or try and maliciously demean them in any way, even though they will try and do that with all of us.
Bottom line – if both Jesus Christ Himself and one of His highest archangels did not speak to these demons in any kind of a reviling and condescending type way, then we all should do the exact same thing and follow their lead if we are ever forced to have to deal directly with them on our end.
For the record, there have been documented cases of deliverance ministers coming under direct attack by demons once they violated this basic rule of spiritual warfare. What got some of them into major trouble with the Lord is that they started to make fun and light of the whole deliverance process.
From there they started to make fun of the demons and started calling them names like wimps, morons, idiots, etc. Once they realized what they had done and then went before the Lord to confess and repent, then God put back up their walls of protection and the demonic attacks then stopped.
I recall one case in particular where the demons were allowed to literally enter in on the inside of a minister's body as a result of him making fun of the demons and the defeated condition they were all in with the Lord. He was abusing the authority that he had with the Lord to cast demons out of people and as a result, he had to go through a full scale deliverance to get the demons out of him. Needless to say, he learned his lesson the hard way and he told the Lord that he would never, ever do something like that again.
If you will notice in all of the professional sports that we now have today, that it is not cool to try and taunt or rub it in the face of your opponent when you do make a good shot or score a good touchdown. In some of these games, players can actually be penalized for going too far with any kind of taunting or abusive behavior displayed against their opponent.
In the same way, God expects all of us to treat our opponents and enemies with courtesy, kindness, and respect in any kind of game or conflict we may have with them. He does not want us trying to taunt, humiliate, or demean them in any way.
Bottom line – whether it be natural warfare with our fellow human beings or spiritual warfare with demonic spirits, we are not allowed to treat them with any kind of abusive, demeaning, or humiliating type language or behavior.
Let both Jesus Christ and Michael the archangel be our examples and role-models on how we are to directly engage with the enemies that we will face in our lives, whether they be human or demonic enemies.