One question that we keep getting coming through our website is on hell, and especially where it may be located. Many people have asked us if the Bible gives us any type of indication of where hell may actually be located at.
After reviewing all of the verses on hell, I believe the Bible is giving us major clues as to where hell may be located at. For those of you who are interested in this technical question, I thought I would draw up this article for all of you so you can see the specific verses from our Bible that are giving us these major clues.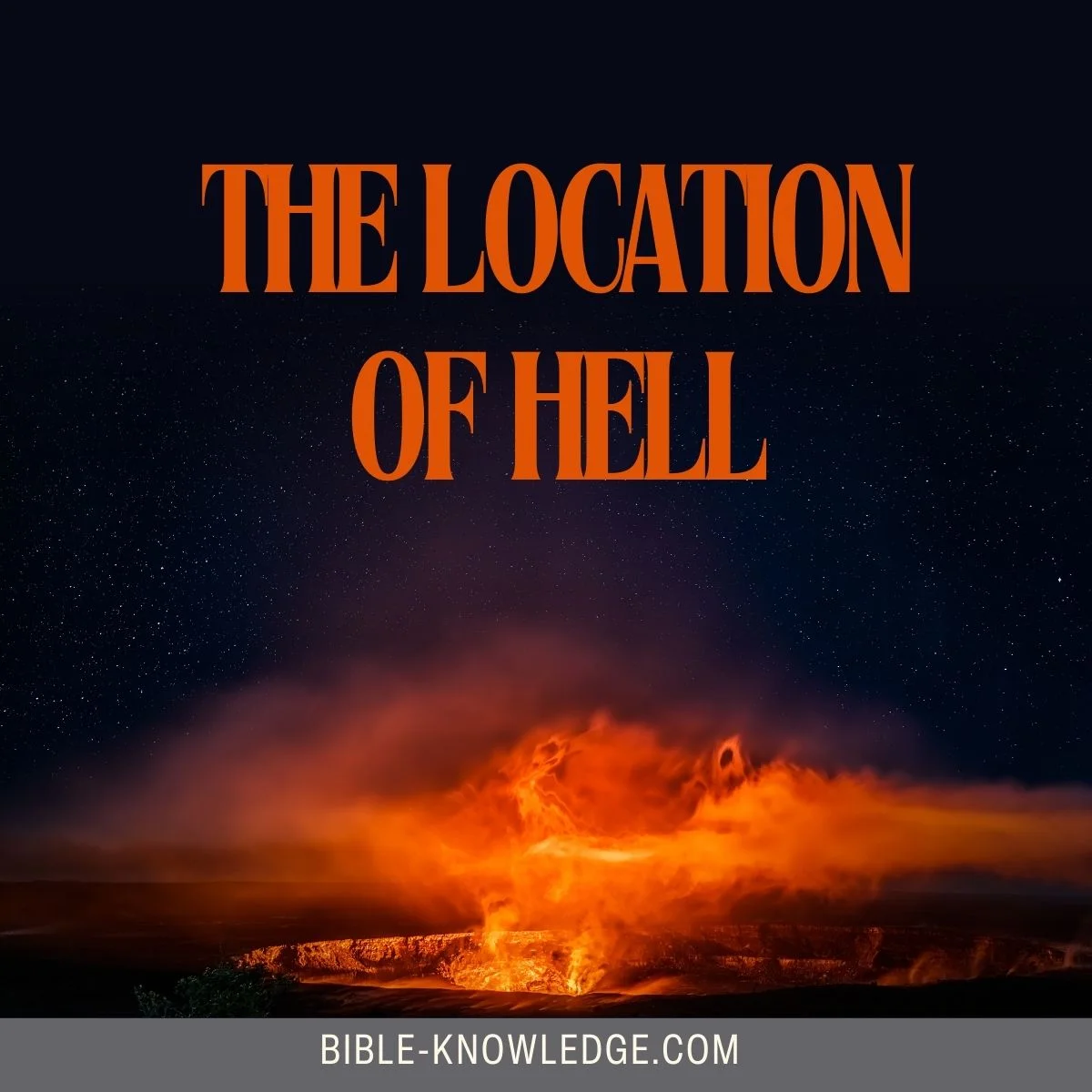 As you look at these specific verses, notice that every time heaven is mentioned in the Bible, it is being referred to as being "up" from our earth.
And every time hell is being mentioned, it is being referred to as being "down" from our earth. Being down from our earth tells me that hell is literally underneath our earth, and possibly located right in the center of our earth.
Here are the verses that are giving us major clues that hell may literally be located right underneath our earth, and possibly right at or close to the center of it.
"For if God did not spare the angels who sinned, but cast them down to hell and delivered them into chains of darkness, to be reserved for judgment …" (2 Peter 2:4)
"Let death seize them; let them go down alive into hell, for wickedness is in their dwellings and among them." (Psalm 55:15)
"Her house is the way to hell, descending to the chambers of death."(Proverbs 7:27)
"They do not lie with the mighty who are fallen of the uncircumcised, who go down to hell with their weapons of war; they have laid their swords under their heads but their iniquities will be on their bones, because of the terror of the mighty in the land of the living." (Ezekiel 32:27)
"Therefore Sheol has enlarged itself and opened its mouth beyond measure; their glory and their multitude and their pomp, and he who is jubilant, shall descend into it. People shall be brought down, each man humbled, and the eyes of the lofty shall be humbled." (Isaiah 5:14-15)
"… then I will bring you down with those who descend into the Pit, to the people of old, and I will make you dwell in the lowest part of the earth, in places desolate from antiquity, with those who go down to the Pit, so that you may never be inhabited; and I shall establish glory in the land of the living. 'I will make you a terror, and you shall be no more; though you are sought for, you will never be found again,' says the Lord God. (Ezekiel 26:20-21)
"But if the Lord creates a new thing, and the earth opens its mouth and swallows them up with all that belongs to them, and they go down alive in to the pit, then you will understand that these men rejected the Lord. Then it came to pass, as he finished speaking all these words, that the ground split apart under them, and the earth opened its mouth and swallowed them up … So they and all those with them went down alive in the pit; the earth closed over them, and they perished from among the congregation." (Numbers 16:30-33)
"Yet you shall be brought down to Sheol, to the lowest depths of the Pit." (Isaiah 14:15)
"For Sheol cannot thank You, death cannot praise You; Those who go down to the pit cannot hope for Your truth." (Isaiah 38:18)
"… Deliver him from going down to the Pit … He will redeem his soul from going dow to the Pit, and his life shall see the light." (Job 33:24,28)
"Let us swallow them alive like Sheol, and whole, like those who go down to the Pit…" (Proverbs 1:12)
"But those who seek my life, to destroy it, shall go into the lower parts of the earth." (Psalm 63:9)
Notice how many times in these verses that people are literally being cast down into hell.
Once again, here are some of these key words put one right after another in a bolded bullet point format so you can see these major clues very clearly from these specific verses.
cast them down to hell
go down alive into hell
descending to the chambers of death
shall descend into it
descend into the Pit
those who go down to the pit
they go down alive into the pit
going down to the pit
shall go into the lowest parts of the earth
The very last verse from Psalm 63:9 is a major one, as it is literally telling us that those who are going into hell are literally going into the "lowest parts of the earth."
The verse from Numbers 16:30 tells us that the earth literally opened up and swallowed them up alive who were rejecting the Lord. And from there it tells us they literally went down alive into the Pit.
Just these two verses alone are telling us that hell is somewhere below the earth's surface. And the rest of the verses are also saying the exact same thing, in that every time the Bible talks about hell, it is talking about people always being cast down into it.
In my opinion, when you put all of these verses together, one right next to the other, I think it is very plain and clear that there really is a hell and that it is literally located right underneath our earth, and possibly close to the center of it.
Conclusion
In the Bible Basics section of our site, we have a much more detailed and intense article on the reality of hell and what the living conditions may be like down there.
If you would like to see all of the main verses from our Bible on the existence of a real, live, living hell and why God has created it in the first place, here is the link to our main article on this topic:
We also have in this article the testimony of Bill Wiese who literally spent 23 minutes down in hell so God could have him bring back to us exactly what the living conditions are like down there.
As we have said in this article, hell and death are real and unless you accept Jesus Christ as your personal Lord and Savior in this very short life, you will spend the rest of your eternal existence down in this horrible place of torment.
What Bill Wiese saw and experienced down there is way beyond what our wildest nightmares could ever conjure up. Hollywood, with all of its fancy special effects technology, could never put on the big screen the real horrors that are going on down there 24/7 for all of the people who are now living down there.
Again, to all of you who have any unsaved loved ones, please pray for their eternal salvation to the day they literally die.
Pray that God, through the power of the Holy Spirit, make major power moves on each and every one of them before it is too late.
Once you die and cross over, that will be it. There will be no second chances once you enter into hell. There will be no appeals you will be able to make before the Lord.
Your fate will be forever and finally decided once you die and enter into this place of unimaginable horror.
We all only have one short window to get all of our loved ones saved before they die and cross over. Do not waste and squander this one short window we all now have with the Lord.
Your own personal, one-on-one prayers to the Lord could be instrumental in getting some of these people saved before they die and meet the Lord head for their own personal final judgment.
Your own prayers to the Lord for their own personal salvation may be the only thing that will end up keeping them from dropping into the most horrible place imaginable, where the Bible says that the smoke of their torment will ascend forever and ever.
Do not discount how powerful your own personal prayers to the Lord may be for each and every one of them. God hears and listens to your prayers.
And He may just mightily move to answer your own prayers, especially for the salvation of those who may be very close to you.