Have you ever had someone let you down? If you're breathing, I'm sure your answer is, "Yes!" And it hurts. Especially when it's someone you think you can trust and rely on. When someone you love lets you down, it's like a knife in your heart. It leaves you feeling alone and disillusioned. And once someone has let you down in a big way, it's hard to trust again. You may even find yourself just waiting for other people to let you down.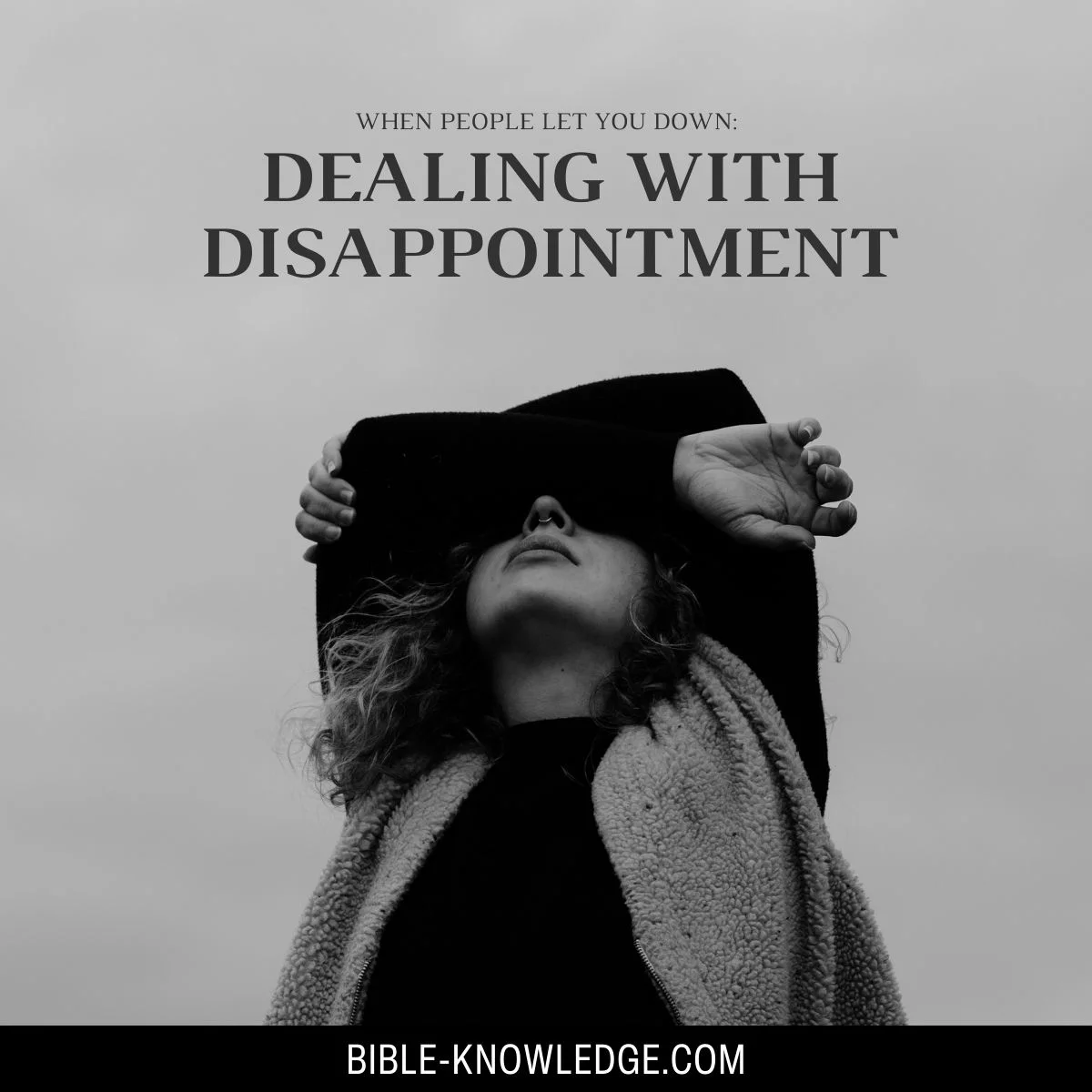 For many people, their entire personality, their peace, and their joy – or lack thereof – is based upon some disappointment in their life. Perhaps a parent let you down when you were a child. Maybe a sibling or other relative hurt you. A church may have disappointed you, or a friend may have betrayed you. And it becomes easy to build walls and live your life in bondage because you've been let down – you don't trust anymore. There's no freedom. You may be still living in chains because someone disappointed you.
The truth is – people will fail you. They're human. So, what should you do when people let you down? Where do you turn when you're dealing with that disappointment?
The Bible is packed with promises and encouragement. But if you look a little closer, there are stories of pain, heartache, and betrayal. Let's take a closer look at some of the stories in the Bible that can help us learn about how to handle it when people fail us.
Paul's Story
"Do thy diligence to come shortly unto me: For Demas hath forsaken me, having loved this present world, and is departed unto Thessalonica; Crescens to Galatia, Titus unto Dalmatia. Only Luke is with me. Take Mark, and bring him with thee: for his is profitable to me for the ministry. And Tychicus have I sent to Ephesus. The cloke that I left at Troas with Carpus, when thou comest, bring with thee, and the books, but especially the parchments. Alexander the coppersmith did me much evil: the Lord reward him according to his works; Of whom be thou ware also; for he hath greatly withstood our words. At my first answer no man stood with me, but all men forsook me: I pray God that it may not be laid to their charge. Notwithstanding the Lord stood with me, and strengthened me; that by me the preaching might be fully known, and that all the Gentiles might hear: and I was delivered out of the mouth of the lion. And the Lord shall deliver me from every evil work, and will preserve me unto his heavenly kingdom: to whom be glory for ever and ever. Amen."

II Timothy: 4:9-18
In the book of II Timothy, the apostle Paul is writing to Timothy, and here we find Paul sharing a bit of what's going on in his life at the moment. It's a very personal part of his letter. Paul is currently in prison, and he tells Timothy, "Demas hath forsaken me."
Demas wasn't a new convert or a pagan – he was a fellow minister and friend, and he had forsaken Paul. You can almost feel the hurt in Paul's writings as he tells Timothy that Demas left him, left behind his faith, and has gone back to the "world." Demas couldn't take the heat while Paul was in prison, and he left. In one of Paul's darkest hours, Demas deserted him.
How many people have walked out of your life? Who left when things got difficult? How much did it hurt when the people you loved most deserted you because life became too tough? Or maybe people left you because you've made the choice to follow after God.
It's not because you're doing anything wrong. Look at Paul. He was chosen by God, anointed by God, and in the very center of God's will, yet he had people leave. People let him down. And he was left alone.
Next, Paul tells Timothy, "Alexander the coppersmith did me much evil." While we're not quite sure who Alexander was, he did Paul enough harm that he warned Timothy about him. This goes beyond being deserted – this man actually did evil to Paul. What does Paul say? "The Lord reward him according to his works." He was hurt, yet he let it go and left it with God.
Then, Paul talks about his first trial in Rome, "At my first answer, no man stood with me, but all men forsook me." He had no lawyer. No one was there to speak to him. And not one Christian stood with him. He was all alone.
Yet he goes on to say, "…the Lord stood with me." And what a powerful statement that is. When everyone is gone, when other people desert you, when no one else it there – the Lord will always stand with you. You are not alone! Jesus is with you. When you look around and it doesn't seem like anyone else is standing with you, remember that this happened to Paul. He had no human person with him, yet he says it was okay. Why? Because Jesus was standing with him.
Jesus' Story
"And they came to a place which was named Gethsemane: and he saith to his disciples, Sit ye here, while I shall pray. And he taketh with him Peter and James and John, and began to be sore amazed, and to be very heavy; And saith unto them, My soul is exceeding sorrowful unto death: tarry ye here, and watch. And he went forward a little, and fell on the ground and prayed that, if it were possible, the hour might pass from him. And he said, Abba, Father, all things are possible unto thee; take away this cup from me: nevertheless not what I will, but what thou wilt. And he cometh, and findeth them sleeping, and saith unto Peter, Simon, Sleepest thou? Couldest not thou watch one hour? …And as Peter was beneath in the palace, there cometh one of the maids of the high priest; And when she saw Peter warming himself, she looked upon him, and said, And thou also wast with Jesus of Nazareth. But he denied it saying, I know not, neither understand I what thou sayest. And he went out into the porch; and the cock crew. And a maid saw him again, and began to say to them that stood by, This is one of them. And he denied it again. And a little after, they that stood by said again to Peter, Surely thou art one of them: for thou art a Galilean, and thy speech agreeth thereto. But he began to curse and swear, saying, I know not this man of whom ye speak."

Mark 14: 32-37, 66-71
Undoubtedly, the greatest story of betrayal, pain, and desertion in the Bible is the story of our savior, Jesus. On that last night before his death, he heads to Gethsemane with his disciples, and all he asks is that they wait with him and watch and pray. And after Jesus prays, he goes back and finds his disciples – the men who were closest to him – sleeping.
Jesus felt pain like we do. He was both God and human, and in his darkest hour, he had to be hurt to find his disciples could not stay up and watch with him. He even says to them, "couldest not thou watch one hour?"
And we know that right after this happens, Judas and a multitude of elders, scribes, and priests show up, and Judas betrays Jesus with a kiss. Jesus knew that Judas would betray him. He spoke of the betrayal at the Last Supper, yet it still must have been like a dagger to his heart. One of the chosen twelve turned him over to his enemies for just 30 pieces of silver that night.
Then, you have Peter. We know that Peter was very special to Jesus, and Peter proclaims that no matter what happens, he'll stick with Jesus. But Jesus tells him that he'll deny him three times. And he does.
Peter not only denies that he was with Jesus, but the third time he's asked about him he curses, swears, and proclaims that he doesn't even know who Jesus is. As Jesus is going before the high priest, being falsely accused spit on, and ridiculed, Peter is outside denying that he ever knew Jesus.
Deserted by his disciples, denied by Peter, and betrayed by Judas, we know that the Jews – his people – go on to demand his crucifixion, asking for the release of murderer Barabbas and the death of Jesus. And on that long walk to Golgotha and as he hung on that cross, Jesus was alone. The 12 disciples had scattered, the thousands of people who had followed his teachings were gone or had turned their backs on him, and yet in the middle of being let down by everyone, Jesus prays, "Father, forgive them; for they know not what they do." (Luke 23:34)
Jesus: The Antidote to Loneliness
The Bible is filled with stories about people who were let down, hurt, and disappointed. Why? Because disappointment is a part of life. You are not perfect. I am not perfect. No one is perfect down here on earth, and people will let us down.
Some time ago, I was praying about a situation where a person I trusted so much had let me down. It was a heart-shattering situation that left me reeling. And I was praying and crying to God about it and in my mind, I was sort of wondering if Jesus could understand what I was going through. Then I thought about the story of Jesus' crucifixion and the days leading up to it.
When we are broken by the hurt of what other people have done to us, we can KNOW that Jesus understands. Why? Because Jesus has been there. He's been left behind. Completely deserted by the people he loved. Betrayed with a kiss. Beaten, spit on, cursed, mocked, and ultimately, crucified. The loneliness of the cross, especially when the Father had to leave him because Jesus took on all our sins, must have been crushing.
There's no doubt that Jesus understands what it means to be let down by people. He knows how it feels to be left alone. But even more importantly, Jesus is the antidote to our loneliness.
Like the apostle Paul, you might be left alone. When you're in trouble, friends may disappear. You might be all by yourself facing the worst battle of your life. But Jesus will be right there standing beside you. Jesus will never walk out on you. It doesn't matter who has let you down in life – Jesus will NEVER let you down.
Life will bring hurt. You'll be abandoned. People will fail you. But Jesus never fails.
We MUST Be Merciful to Others
Let's go back to Paul's story for a moment. He says, "At my first answer no man stood with me, but all men forsook me: I pray God that it may not be laid to their charge."
Notice Paul's merciful attitude towards the friends and fellow Christians who left him all alone when he faced trial. He prays that it will "not be laid to their charge." Paul understands that even good Christians can fail us. And instead of being angry, he shows mercy here.
It is so important as Christians that we show mercy to the people who hurt or disappoint us. We are all but dust. We make mistakes. Jesus has forgiven us of so much, which means we must show mercy and forgiveness to others.
When that person you love hurts you, or that church member does something that disappoints you, it's easy to let that become a negative defining moment in your life. If you're not careful, you'll hold on to that hurt, maybe even for years, and it will continue to hold you captive.
That's not what we should do as Christians. Leave it to God. Show mercy. Show understanding. Let the hurt and pain go. Yes, you're going to be let down by people, but Jesus will never let you down, so you can show mercy and extend forgiveness to those who have wounded you deeply.
Make a Choice: Victim or Conqueror
If you're dealing with disappointment, if someone has let you down in a big way, you have a choice to make. Will you choose to be a victim, or will you choose to be a conqueror?
You can choose to be a victim. You can live in the hurt. You can let that pain haunt you for years. You can allow your disappointment to make you build walls so no one can get in to hurt you again. You can keep blaming the person who hurt you for the way your life is now. You can allow it to make you a slave to what has happened to you.
Or, you can choose to be a conqueror, which is what God wants for his people. You can extend mercy and forgiveness. You can choose to let go of what has hurt you and to hold on to the hand of Jesus who has never left your side.
There is not a way to avoid being disappointed in this life. No matter how much someone loves you, they can let you down. But while it's easy to get caught up and bogged down by those hurts and disappointments, our eyes should be on Jesus. Life is hard, but we can totally depend on Jesus. No matter who leaves us, no matter what happens, no matter what's been done to you, Jesus has promised that he will never forsake us.
"…for he hath said, I will never leave thee, nor forsake thee. So that we may boldly say, the Lord is my helper, and I will not fear what man shall do unto me."

Hebrews 13:5b-6